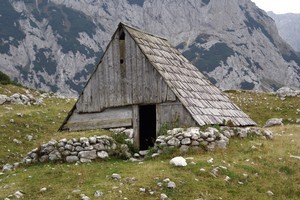 Hugh Chapman, our guide to Montenegro from Vista Trails, says he likes unexpected problems because they give him the chance to impress holidaymakers by showing how adept he is at handling them. And so, we presented him with a humdinger.
In Durmitor National Park, in north Montenegro, which is famous for the beauty of its mountains, there is a walk marked on tourist maps which leads through thick forest way up into the clouds, skirts the peaks of two mountains, and swings around and down back to where it began at the Black Lake, close to where communist partisans had their base in the Second World War. The official advice is that you do not need mountaineering experience, but you need to be careful.
Our two sons, aged 20 and 12, set off at a cracking pace and did the whole walk fast enough to be home in time for supper. The problems arose in the rearguard, where we older folk and our two daughters slowed ourselves by taking a wrong turn, then took a long time making the steep ascent through woodland.
By the time we reached what should have been the highest part of the walk, there was a risk that if we weren't quick, we would still be in the mountains when darkness fell.
So we hurried on, without taking enough care to study the map or the contours of the land ahead. We were on a marked path, unaware that it was the wrong one. It was for experienced mountaineers only, and was steering towards the peak of Mali Medjed (Little Bear) which, we learnt later, is notorious as the most dangerous mountain peak in the region.
As the path became so steep that we were rock climbing rather than walking, one of my daughters was struggling. If she slipped, she would tumble several hundred feet on to sharp stones. Fortunately, her mother, Sue, was there to talk her up to safety. But no sooner was she out of danger than there was a loud exclamation from higher up - more anger than fear. Sue had lost her footing. She began tumbling at a dangerous speed. I grabbed her to slow her down, but that meant we were both sliding down treacherous rock. I managed to find a foothold before we had suffered anything worse than badly grazed and bruised arms and legs.
A few minutes later, we were reunited up above the sheer slope, where we could sit and take stock. I felt like a bonehead. I did not want to have to tell anyone that we had got ourselves into a mess. But it could plainly be dangerous to go up, dangerous to go down, and we had lost our last chance of getting back to the Black Lake in daylight. There was nothing to do but ring Hugh and admit that we had been idiots.
He was down on Montenegro's south coast when he got our distress call, but it was not long before mountain rescue was on the way, and Hugh was in his car, insisting on coming up in person to make sure we were all right. He was at our holiday home with the boys before we got there.
Montenegro's mountains must be treated with respect. If you accept that, then it is one the most fabulous unspoilt locations on the continent, especially if you like to combine a bit of lazing on the beach with a bit of exploring and sightseeing. Driving on Montenegro's roads is an adventure. Most are narrow, and quite often there is a sheer drop on one side, which is always interesting when you meet a vehicle coming the opposite way.
One day, we were driving up a mountain road which became so steep that our overladen, nine-seat Opel Vivaro refused to continue, even in first gear and after all the passengers had alighted. So, I had no choice but to roll it back down, mindful that a wrong turn of the steering wheel could plunge car and driver into the valley below.
Another hazard we encountered, was having to stop because there was a wild tortoise eating a fig that had dropped from a roadside tree. However, the fabulous scenery more than compensates for such hassles.
Not content with being rescued from a mountain, our daughters decided to defy death by bungee jumping off the bridge over the Tara Canyon, the deepest river canyon in Europe. The only other people we saw making this jump, which involved falling 142m and being boinged back up nearly 122m, were young men. I, of course, would have joined them, but there is an upper age limit.
As one of the girls was hanging upside down at the conclusion of her jump, she waved to the folks who were white-water rafting on the Tara River below. We had all done that the day before. It sounds energetic, but it is mostly very restful. With the walls of the Tara Canyon towering over you, you feel as if you have drifted into the world of Tolkien.
One evening, Hugh took us on a boat trip along the coast. The boat was Le Coche d'Eau, which was once a pleasure cruiser on the Seine but was brought from Paris to Montenegro at great expense by a former ship's pilot named Rajko Cavor. And we met Ilija Moric, another of Hugh's many contacts, who runs an organic olive grove in a village called Tici, on the Lustica peninsula, Montenegro's most southerly, which his family has farmed for centuries.
In the cellar beneath their home there is an old wooden press for crushing olives, preserved in working order. The family prevailed on us to try drinking pure olive oil: it has a curious taste of mown grass, and causes a slight burning sensation in the throat.
We did another walk across a mountain down in the south, where the paths are less hazardous. We started at a point near Tivat, a coastal town on the south side of a peninsula, and, under a baking sun, we ascended to a path 669m above sea level, where we walked along a wide ledge with views of the Adriatic on both sides.
We then took an old military path that zigzagged down the north side to Kotor, a town tucked into a bay with an old city wall that seems to thread almost vertically up the mountainside.
At night, it is lit like a gigantic necklace. This time we didn't need to ask Hugh for his help. But don't hesitate - he likes handling problems.
- INDEPENDENT