Rebecca Barry skips the queues under the bright lights of Times Square.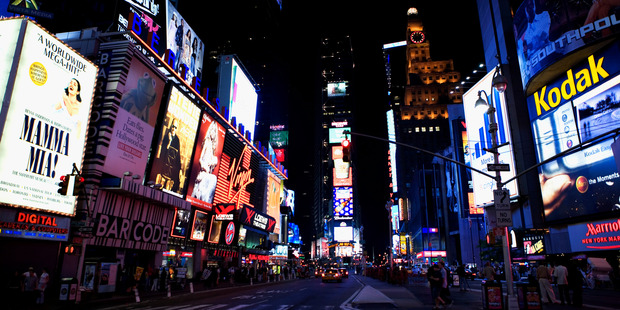 At 7.15pm I was shivering in Times Square, wondering how to spend the evening.
By 7.30pm I was in Nigeria. Braids flew in all directions. Butts and thighs jiggled on stage. Impromtpu whoops of joy erupted from jimmying dancers, their cries pitching high above the music, Fela Kuti's hypnotic hybrid of jazz, funk and African rhythms. The band of moustached men in buttoned-up beige cockily eyed the females in the audience.
Welcome to row C at one of the most talked about productions on Broadway, New York City.
You must see Fela! a friend had raved, when I'd arrived in the Big Apple.
But the prospect of a socio-political musical based on the life of the pioneer of Afrobeat hadn't exactly set me on fire.
Neither had the queues. The best seats were more than NZ$300 (and worth every penny, I'd later discover) but nearly all the tourist guides had suggested flagging the box office and queueing up at TKTS in Times Square for last-minute cut-price tickets.
Every day, I'd wade through the marsh of tourists on my way back to the hotel and bypass the penned-in cattle queuers slowly inching their way forward to scavenge the scraps of the day's failed sales.
There were plenty of shows but no guarantee you'd get to see the one you wanted. Two doors down from my hotel, Kelsey Grammar starred as the manager of a drag revue in La Cage Aux Folles.
On the next street Laura Linney was a war photographer in Time Stands Still, co-starring Alicia Silverstone.
At the St James Theatre on West 44th, Billy Joe Armstrong surprised audiences by playing the lead in Green Day's proposterous-sounding but apparently rather good rock opera, American Idiot.
Even Paul Reubens had apparently survived his 1990s public lynching, returning to the stage in The Pee-wee Herman Show.
If you didn't make it to a Broadway show, you could eavesdrop on the verbal reviews over bad filter coffee the next day. One morning I overheard a table gossiping over their lox bagels about how much they'd enjoyed seeing Fela! That was enough to convince me to try and get tickets from TKTS.
For 25 per cent to 50 per cent off, it was worth it but that week the cold had arrived. It was minus-2 degrees and there was no way I was going to stand in a line for God knows how long to try for tickets to a show I had no guarantee of getting into.
Then Sunday came. Many of the Broadway shows start as early as 6.30pm, so the queues had all-but-disappeared by the time I'd sauntered past the TKTS booth.
On a whim, I approached the desk and had soon bagged myself a half-price ticket to the 7.30pm session of Fela! and, with 15 minutes to spare, legged it over to the Eugene O'Neill Theatre.
Somehow, this last-minute decision led me to one of the best seats in the house. The third row back, smack bang in the middle, close enough to feel the beads of sweat flying off lead star Kevin Mambo as Fela Kuti, an intense role that sees him playing, singing, preaching and shagging his way to notoriety. Playing Kuti is such an intense part, the Emmy winner alternates with Sahr Ngaujah.
Fela! is not the most traditional of musicals. Early on, Mambo asks the audience to put their hands up if they've been to jail. Graffiti decorates the set.
After several years in development, it took Jay-Z and Will and Jada Pinkett-Smith to step in as executive producers before the script by Bill T. Jones could really get off the ground.
A later endorsement came from Michelle Obama, whose arrival created almost as much excitement as the show itself.
Fela Anikulapo Kuti himself led an extraordinary life, most of it in reaction to the political discontent and corruption in his native Nigeria.
The musical star underwent a political awakening when he visited the US in 1968 and encountered the Black Power Movement, returning to his home country as a determined activist, going on to set up his own compound, the Kalakuta Republic.
It would become the scene of a violent government raid that left many of his followers wounded and his beloved mother dead. Despite his grim story, the show is mostly about the music - and the dancing.
A cast of beautiful African women of all body shapes, doused in tribal paints and squeezed into colourful outfits, provide the visual jazz, thrusting viewers into Fela's world, a riot of booty-shaking, unbridled. spirited movement, some of it in the aisles.
That leaves little time to spend wallowing in the morally questionable minefield of his personal life: Kuti married all 27 of his dancers and later died of Aids.
But this show I almost didn't see was so uplifting, it made me sing and dance out the door, back into the New York cold.