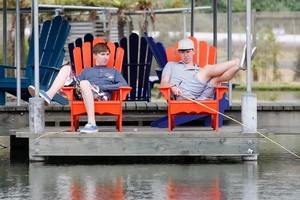 There's a sleepy little Central North Island town where the post office closes at 3pm and the local pub is still waiting for its liquor licence in time for the new year.
"Historic" Raetihi still has its wide roads where bullock teams would cart timber to and from more than 30 mills that once surrounded the town.
Once booming with forestry workers milling the large stands of totara, rimu and matai in the area, the town with a population of just a few hundred is 11km from its busier neighbour Ohakune and almost out of the way on the Hamilton and Central Plateau loop - one of the AA's Great Kiwi Road Trips.
There was once a Farmers department store and a haberdashery - and a lot more people.
These days it's only the passing trucks that break the silence.
There are no ATMs, and more than 90 per cent of the stores on its main drag are vacant despite the weekly rent of $80 at one of them.
The town's information site was closed during its "open" hours but we found that Raetihi, home of the Ratana Church and gateway to the Whanganui National Park, has a curious charm - like a full-sized version of those miniature towns that dot model train sets.
Many of its early 1900 buildings are well-preserved including the Theatre Royal, one of New Zealand's first cinemas which was built in 1915.
The town also has a near century-old Bank of New Zealand building and a museum complex, which consists of a railway station, police office, jail cell and stables - all reminders of busier times.
It has fully refurbished public toilets housed in a 1940s art-deco building and a two-storey County Offices building built in 1933 which is for sale.
The road trip is meant to take three days to complete 376km but we're doing it at breakneck speed.
Before our sojourn around Lake Taupo and along the Desert Road we sampled some fine fromage at the Over The Moon Dairy Company, an award-winning cheese-maker in Putaruru that also runs classes teaching people how to make the stuff.
While in Tokoroa, a knowledgeable local told us the big-bearded tree guy on State Highway 1 was not Treebeard from Lord of the Rings but the Green Man, a cedar deodar shaped to look affable.
The Green Man promotes conservation and is one of 44 sculptures on Tokoroa's Talking Poles Trail. Note: the poles do not talk.
Our next stop is Taupo, the trout fishing capital of the world where we thought it appropriate to try to catch some prawns at the Huka Prawn Park - a pricey place which promotes itself as "just near the Huka Falls only far more impressive" and has a mascot called Shawn.
Despite learning that each year 32 tonnes of the little critters are harvested in the plant and released into the ponds where where visitors can fish for them, we quit after an hour without a single bite.
With the weather clearing but still not one glimpse of Ruapehu, Tongariro or Ngauruhoe, we decided against the war museum at Waiouru sparing ourselves a few sombre moments at the Tangiwai disaster site where 151 people died on Christmas Eve in 1953 when the Wellington to Auckland train crashed into the Whangaehu River.
It's a good thing it isn't a hot day - the acid levels in the Whangaehu River mean swimming there is out. Then again, it is a wahi tapu, a sacred place.
After our Raetihi visit we're tiring so it's nice to know the AA-recommended Chateau Tongariro is just a 25-minute drive away.
Built in 1929 for £78,000, it is a magnificent category one historic building with sweeping grand halls and chandeliers that hang from intricately decorated high ceilings.
It's a very plush way to end our journey for the evening with a glass of red wine overlooking the Waimarino plain - but what a pity I forgot my clubs as the hotel has its own nine-hole golf course.