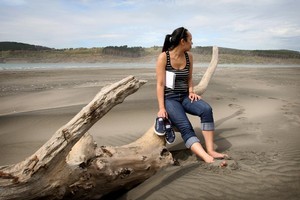 Pets with behavioural problems, zoo cast-offs and affable blind otters can all be found on a trip to Port Waikato.
Franklin Zoo Wildlife Sanctuary on Ridge Rd isn't an ordinary zoo, it's a place where odd bods and misfits rule and it's the first stop on the AA's Great Kiwi Road Trip from Auckland.
Ex-pet birds who've taken to stressed feather plucking are here, as are species for which zoos no longer have conservation programmes. It's a home for animals who just couldn't get along, like a zebra from Hamilton who took to stealing other mothers' foals.
Tommy the otter, 22, is an old-timer here and he looks it. He's nearly blind in one eye and lost the other one when an abscessed tooth burst. But despite his troubles he's still seriously cute. On the day we visit, he's grabbing mince out of zoo director Helen Schofield's hands with his own dexterous paws.
Tommy's treats are packed with supplements and medicine to keep him going. He's so loved at the sanctuary Dr Schofield reckons she's found herself holding her breath in the mornings hoping he'll still be there stretched out in the bushes or hanging out in his pool.
Cheeky capuchin monkeys who vie for the best cherries from zoo volunteers don't seem to have any such health troubles.
They scoff down their food and return to schoolyard antics - one little monkey gets a shove from his big brother, starting a game of tag as the tiny monkey sends out a probing jab while on retreat.
It's easy to spend a couple of hours here - the staff are laid back and enjoy chatting about their favourites.
But it was getting hot and the next stop was only down the road, just outside of Tuakau.
Less than a minute out of town a family of six are swimming and giggling on the banks of the Waikato River.
The waterway's moving placidly and from the family's sandy spot just off River Rd they can see the pretty Tuakau Bridge with its rolling sets of white waving arches.
Grandmother Motuere Rawiri is watching her 3-year-old grandson Te Werahi Hira splash about with her other children.
He's not long back from Australia and is enjoying being able to swim in a river.
"We've always come here, it's safe for the kids and when you've got the place to yourself you're pretty lucky."
Across the bridge we turn right to head out to the port and watch quiet farmland and little hills pass by.
Turanganui Marae sits above a river bend. It's a beautiful spot from which watch the river on the final leg of its 425km journey from source to sea.
Port Waikato was an important port during the land wars but on a quiet midweek day there's not much water activity. On the village's outskirts a big bellied boat with paint peeling off is high and dry in a paddock. It's kept company by a couple of fat sheep.
During whitebaiting season this isn't a bad place for a feed, locals reckon. The flounder and mullet aren't bad either.
On the river's south bank, the settlement's wharf store is a top spot to stop for an icecream.
It's only five minutes from here to Sunset Beach, where the black sand looks bluish in spots.
We park up and head for a half-hour walk up the beach with our feet sinking the whole way. The wet sand doesn't pack down hard like golden sand so the leg muscles - which aren't much to write home about anyway - are seriously weary by the time we arrive at the river mouth.
It's worth it though. The river's journey meets the sea softly and the view stretches all the way back to hills which follow the Waikato out.
BIG CHARACTER GROWS IN CONFIDENCE
When life is good, Mila the elephant chooses to act more like a big cat than one of Africa's most loved heavyweights.
After more than three decades in the Whirling Bros Circus, she was retired last year. For the past 12 months she's been in a rehabilitation programme at Franklin Zoo Wildlife Sanctuary aimed at breaking old habits so she can live with other elephants at a larger sanctuary, probably overseas.
When Mila arrived, she was jumpy and nearly everything frightened her, zoo spokeswoman Dr Helen Schofield said.
"She's had a reasonably hard life. She's used to being controlled. Mila was very scared. She had this big field to deal with and everything was new."
A key to her success in living with other elephants is to get her to act like them. So staff have tried to limit physical interaction as much as possible. The goal is to let her make her own decisions, as she would in the wild.
Mila's doing well. She is learning to play which is a good sign. Her big ears must be burning because, while Ms Schofield talks, Mila ambles over to eye us through the fence.
"She's got a really strong personality, when she's wary she'll stick her truck up and have a big sniff, but when she's around people she likes she purrs like a big motorboat."