Jim Eagles gets a rare glimpse of the fascinating inhabitants of The Snares islands, including some harried surfing penguins.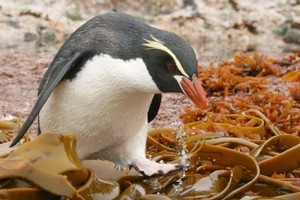 Our zodiac bobbed up and down in the swell of the great Southern Ocean while we waited for the call from Melanie our French zodiac driver. Then it came, "Incoming, incoming".
Instantly we swivelled to port, readied our cameras and braced ourselves. And there they were. A raft of dozens of Snares crested penguins porpoising out of the water as they raced at high speed past the threat of sea lions and sharks en route to the shore.
As they reached the steep rocky slope that is the favoured landing platform on this part of North East Island, the main island of the Snares group, the penguins fired themselves into the air like tiny torpedoes.
Some flew safely on to dry rock where they were greeted by waiting colleagues with the odd peck, preen or flipper wave. But those who misjudged slipped back down the thick bull kelp lining the shore and had to scrabbled back up as best they could.
As it happens there were no predators lying in wait under the waves so they all made it safely back to shore, much to our relief.
Our wildlife cruise of the Sub-Antarctic islands on the expedition ship Orion had brought us to the Snares, some 200m south of Bluff, a week before but it was too rough to cruise the shoreline in the zodiacs and landing on this most unspoiled group of islands is strictly forbidden.
There had initially been a few groans at captain's announcement over the public address system, "The expedition manager is up here salivating at the thought of getting you into zodiacs and exploring the Snares. But I've made a command decision not to go. It's too rough and I don't want to take the risk of losing any of you."
But the grizzling faded a few moments later when a huge wave hit the ship, sending us stumbling, then surged over the lower deck rail, soaking several passengers and drenching a lot of camera gear. In such rough conditions we were suddenly grateful to be in a 103m vessel rather than the fleet of little zodiacs.
Just cruising by the islands we got a taste of their amazing wildlife. From the top deck I watched clusters of penguins and the occasional fur seal porpoising through the waves, great flocks of sooty shearwaters - aka titi, or mutton birds, two million of which nest on the islands - heading out to sea, and dozens of petrels, including common diving petrels, many of which landed on the water alongside us to carry out their distinctive diving operations, the Snares variety of the cape petrel and a lone giant petrel.
Gliding overhead were several of the elegant Salvin's and Buller's albatrosses, which also nest on the Snares, their three-metre wingspans serenely unconcerned about the powerful winds buffeting our ship.
Later, as the Orion headed south for Macquarie Island, British bird expert John Sparks gave passengers a lecture entitled "storm birds" which focused mainly on the albatross family, whose Latin name comes from the tubes they have on their beaks which are thought to allow them to calculate wind speed.
They are such efficient fliers that satellite tracking has shown albatross finding it worthwhile to fly 8000km to fetch just 8kg of food for their chicks.
"It is," as John said poetically, "impossible not to marvel at these birds which fly with effortless ease in conditions which make steel ships buckle." Quite.
One seabird even came calling. I was wandering out to the rear deck when I saw one of the birding guides, Guillaume Bouteloupe, on his knees scrabbling in a corner of the covered area.
To my surprise he emerged holding a small bird. "This is a broadbilled prion," he explained. "I think it took shelter here overnight."
The prion, which did indeed have a very broad bill, lay calmly in his hands while we photographed it. When released over the side it initially flew about like a drunken sailor before getting its bearings and heading north.
As the Snares faded in the mist I couldn't help feeling sad that we weren't going to see these amazing islands close at hand. But fortunately a small window of reasonable weather in a cycle of dreadful-looking cyclones later in the cruise led Orion's captain Mike Taylor to try again, so here we were.
My wife, Chris, and I were actually scheduled to be in the second group to go out in the zodiacs but with the weather closing in and the sun low on the horizon we thought we'd put our wet weather gear on and go to the zodiac deck just in case a few people in the first group had decided not to go.
We got the last two spots and, as it turned out, that was very lucky for us because the second group had to suffer dim light and constant drizzle while for us the cloudy skies produced only a few spits of rain.
It's easy to see why the Snares are so highly prized as a refuge because as we puttered round the shoreline we could see wildlife everywhere.
On the clifftops I was able to spy a few Buller's albatross sitting on their elevated nests. In a tree daisy on the shore a little black Snares tomtit peeked out. From the rocks a nesting Antarctic tern told us to go away.
The New Zealand fur seals had obviously just given birth and the curious dark eyes of pups gazed at us on all sides. One youngster cuddled up against his mum while he looked at these strange visitors. Another bolder pup swam across a deep rock pool to get a better view.
The island also acts as home to a few New Zealand sea lions and one lay sunbathing on the rocks right alongside a cluster of Snares penguins that evidently neither knew nor cared that sea lions enjoy the odd penguin snack.
But it was the penguins, with their wonderful tufted yellow eyebrows and bright red bills that were our main focus of attention.
There are probably around 25,000 pairs of them, mostly nesting in the forest, to the extent that some of them even climb trees. The naturalist guide in our zodiac, Dr James Watson, spotted one perched in a tree and we certainly saw plenty of them making their way between forest and shoreline.
Around most of the shore the cliffs are too steep even for these amazing athletes, so the few places where there are platforms of rock with waves breaking over them are in high demand.
Close to these landing spots penguins cluster in huge numbers, their erect yellow crests giving them a jaunty air, as they welcome returning neighbours home safe from a day's fishing or encourage outgoing colleagues to jump into the water first in case there might be something hungry under the waves.
I know you're not supposed to anthropomorphise animals but part of the appeal of penguins is the fact that they look and act like little people. I could watch them all day going about their funny little lives.
Those two, for instance, standing on the rocks with their flippers waving and beaks clacking, you could easily imagine as saying ... . "Incoming, incoming," Melanie's call broke into my day dreaming. "There's another raft of penguins on the way."
CHECKLIST
Further information: Orion Expedition Cruises visits the Sub-Antarctic islands, including Auckland, Campbell and Macquarie Islands, The Snares and Stewart Island. over the Christmas-New Year period.
Jim Eagles travelled to the Sub- Antarctic islands as guest of Orion Expedition Cruises.