Thermal pools are the city's best-kept secret, writes Diana Clement.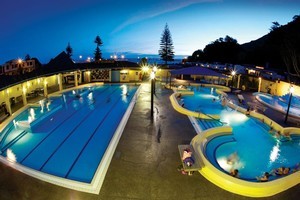 Tauranga isn't famed for its hot pools. In fact, friends thought we were making a wrong turn on State Highway 2 when we announced we were going to Tauranga for a thermal soak.
Overshadowed by its bubbling cousin Rotorua, the tourist appeal of Tauranga is often seen in its beaches. Yet the city's hot pools are one of Tauranga's best kept secrets.
Hidden down the back streets and byways of the Western Bay of Plenty city, we found six pool complexes. Take your pick of mineral, salt and thermally heated chlorinated water.
There is everything from the hustle and bustle of the Mount Maunganui Hot Salt Water Pools to the secluded country setting of the Welcome Bay Hot Pools or Fernland Spa.
But check out NZHotpools.co.nz before you leave home and bring the GPS or a good map. There's a good reason many of these pools aren't on most tourists checklists.
They're off the beaten track.
Fernland Spa Thermal Mineral Springs-Hot Pools
Hidden down a valley on the edge of town, these family run thermal mineral springs are set in a fern grove. The main pool, built in 1968, is surrounded by greenery with a small waterfall.
My children were taken with the large private pools - in part because they weren't forced to wear rash shirts. The private pools are popular in wet weather because they're covered.
There's a nice barbecue area or, if you're so inclined, massages are on offer. What amazed me is the pure soda, crystal clear non-chlorinated water is so pure the owners used to bottle and sell it.
Prices: adult $7, child $4.50/$2.50 depending on age.
Website: fernlandspa.co.nz
Address: 250 Cambridge Rd, Tauranga.
Mount Maunganui Hot Salt Water Pools
Without a doubt the best-known hot pools in Tauranga are the Mount Maunganui Hot Salt Water Pools.
Nestled right under the mountain, just a few metres from the Mount's surf beach and opposite the Copenhagen Cones ice-cream shop, it wasn't difficult to entice my young people there for a swim.
The most unusual feature of these pools are high pressure water spouts, which are great for relieving tension in your back.
Prices: adults $10, Children $7.50/$5.30 depending on age.
Website: tcal.co.nz
Address: 9 Adams Ave, Mount Maunganui
Omokoroa Thermal Holiday Park
Fifteen minutes from downtown Tauranga is the Omokoroa Thermal Holiday Park and its 100 per cent pure thermal hot pools.
The water is pumped up from underground into a hot spa - about 39C - then into the medium pool and the larger family pool, good for splashing around.
What's special about Omokoroa is the softness of the water. You don't need an industrial chemist to tell you that this water is very high in minerals. It has to be the softest mineral water I've experienced in New Zealand. This is, I'm told by the owner, due to the high zinc content of the water.
Prices: adults $5, children $3.
Website: omokoroa.co.nz/
Address: 165 Omokoroa Road
Oropi Complex
Twelve years ago, Robyn Cooper and her late husband were looking for something to do with their hay paddock at Oropi, 10 minutes inland from downtown Tauranga.
The couple had opened a paint-balling operation, but realised when Dad was dropped off, Mum and the kids had to kill time. The answer lay in the thermal waters beneath the earth.
Today, the Oropi pool pumps hot thermal water and cold mineral water from underground to a modern pool. The cold water is heated using a heat exchanger and then chlorinated. This suits people concerned about putting their head under thermal water.
Prices: adults $5.50, children $3/$4
Website: oropicomplex.co.nz
Address: 1 Warner Road, Oropi
Sanctuary Point pools
These pools left us bemused. I'd heard variously the pools were no longer hot, or they were only open to residents of the rundown caravan park behind. We found the pools open to the public, nicely landscaped, hot and clean.
Prices: adults $4, children $2.50.
Website: sanctuarypoint.co.nz/
Address: 140 State Highway 29, Windermere
Welcome Bay Hot Pools
One of the beauties of Tauranga's hot pools is they offer some of the purest, clearest thermal waters in New Zealand.
Welcome Bay Hot Pools' water comes straight from a thermal source 250m below ground. Every day, the pools are drained, cleaned and re-filled with thermal water.
Once saddled with a reputation for attracting the wrong clientele, these days the rejuvenated pools are popular with families.
Prices: adults $6, children $4.
Website: holidayparks.co.nz
Address: R409 Welcome Bay Road, Welcome Bay
Elsewhere in and around coastal Bay of Plenty you'll find a number of other thermal springs. They include:
* Awakeri just outside of Whakatane, an older-style pool in pleasant surroundings.
* Athenree, a near new pool heated from a bore.
* Savages, a hot stream outside of Kawerau.
* Sapphire Springs, near Katikati, which is more tepid than hot.
* Dave Hume Pool, Katikati.