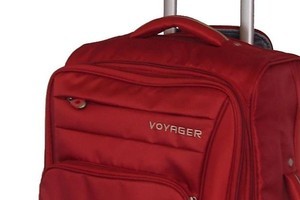 I have a few key requirements when I'm looking for a suitcase: it needs to be light, not too big, hard-wearing and easily identifiable.
The Voyager superlite series does well under all those headings. It is, indeed, super light (the standard case is just 2.5kg) and very easy to either carry or roll.
The medium-sized model (77-litre capacity) I trialled is if anything slightly too large for my usual travel needs, though that proved very useful when I wanted to add some extra warm clothes for a spring trip to the Chatham Islands, and if I'd needed more room I could have used an expansion gusset to provide nearly a third extra space.
The nylon covering looks very tough, possibly even more hard-wearing than my old case which finally gave up the ghost after several years of being thrown on concrete runways and jammed into tiny storage compartments.
And the red colour stands out marvellously among all the black and brown cases on the airport carousel.
Of course, only time will tell whether the new Voyager proves as valuable a travel companion as my old one but it's certainly off to a good start.
Voyager superlite luggage is available from travelcomfortable.co.nz with prices starting at $110.