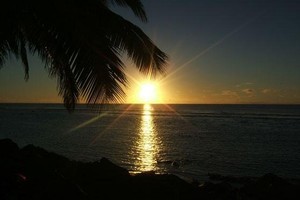 Take in the beach view on Rarotonga. Photo / Melissa Randall
Cheap e-rooms from $59-a-night at LivingSpace apartment-style accommodation in Dunedin, Christchurch or Invercargill. Book and stay by January 31.
Contact: livingspace.net
Under $200
Stay at the three-star Kingsgate Hotel Dunedin and pay $125-a-night - less than half the standard rate.
Contact: book the Kiwi Summer deal at wotif.com
Under $600
Return Air New Zealand airfares from Auckland to Melbourne and two nights at Hotel Formule 1 start at $535. Book by December 6, travel between February 5 and March 23.
Contact: flightcentre.co.nz
Under $2000
Return Air New Zealand airfares from Auckland to Rarotonga and five nights at Te Vakaroa Villas from $1799 each. Stay another two nights and receive a lagoon cruise, picnic and an island night dinner.
Contact: Our Pacific, 0800 500 598 or ourpacific.co.nz
Unless otherwise stated, prices for flights and accommodation packages are quoted for one adult on a twin-share booking basis. Conditions apply to most packages, such as deals being subject to availability and close-out dates, and most have short-life booking deadlines.