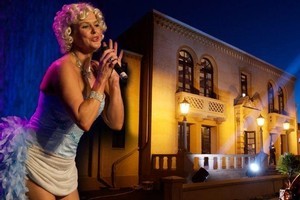 Rotorua's historic Blue Baths are the setting for "Stars at the Baths", a lively dinner show featuring fine food, fabulous costumes and great music. The show runs Thursday, Friday and Monday until April 2011.
Contact: (07) 350 2119
On the web: historic-venues.co.nz
Party for Pearl
To mark the Pacific Pearl becoming the first superliner to be based in New Zealand, P&O Cruises will hold a huge Pacific Island Family Christmas Festival on Queens Wharf on December 21, starting at 5pm. There will be performances by Dane Rumble and Stan Walker, a ferris wheel, plus performers. Cuisine from the ship's restaurants will be on offer and there'll be a spectacular fireworks display over the harbour.
On the web: pocruises.com.au
Going underground
The stunning new visitor centre at the Waitomo Glowworm Caves reflects the woven shape of a hinake (eel catcher). Inside, there's a restaurant and café, a gallery and exhibition space, a gift shop and a theatre. The centre is the access point for cave tours.
Contact: 0800 456922
On the web: waitomo.com
To the island
The Bay of Plenty's Tühua, or Mayor Island, is open for the summer season and people who enjoy beautiful, remote places with limited facilities can pre-book the island's basic cabins and tent sites.
Contact: (07) 5787677.
Email: taurangainfo@doc.govt.nz