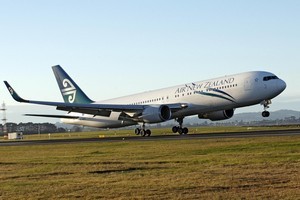 If you're one of those sad people who put a dampener on their own holidays by feeling guilty at the damage done to the planet when they fly overseas, here's something that should ease your conscience.
While most of the world has been putting a lot of effort into explaining why it isn't possible to cut greenhouse gas emissions just yet, the aviation industry has actually been doing it.
Air New Zealand, for instance, has been reducing its carbon emissions for the past five years. It started off aiming to cut its carbon dioxide output by 100,000 tonnes annually. After a couple of years that was increased to 130,000 tonnes annually (equal to a 4.5 per cent reduction in fuel consumed). Now, having achieved that goal ahead of schedule, the airline is thinking about an even higher target.
Those reductions are being achieved on several fronts.
Like most airlines, Air NZ is talking with the likes of Airways NZ and America's Federal Aviation Administration about more fuel-efficient arrival procedures and air route planning, an area with the potential to produce huge savings.
I haven't seen any New Zealand figures, but Germany's Lufthansa complains that European air routes are on average 15 per cent longer than they need to be - by its reckoning wasting 5.4 million litres of fuel a day - because of airspace restrictions. Paris to Munich, for instance, is 680km as the crow flies but 980km on the route Lufthansa is obliged to use.
Air NZ's existing aircraft are also being made more efficient. Winglets have been installed on all the Boeing 767-300s resulting in an average 5.5 per cent fuel saving. And driers are being used to remove moisture trapped in aircraft insulation, cutting the weight of individual planes by around 200kg of water. On the airline's five 767s alone this is expected to save 320,000 litres of fuel a year and reduce carbon emissions by 800 tonnes annually.
Modern aircraft are also far more fuel-efficient than their predecessors. Boeing reckons the 777-300, which Air NZ is due to take delivery of later this year, will be 15 per cent more efficient than comparable aircraft already in service, and the 787, due to arrive in 2013, is said to use 20 per cent less fuel.
The next generation of aircraft should be even better. Rolls-Royce claims the open rotor engine it is developing is "25 to 30 per cent better than today's aircraft." Announcing this, Rolls-Royce's Paul Randall made a comment that's worth thinking about.
The aviation industry, he said, spends US$20 million a year on reducing its carbon emissions. "That's not bad for an industry some say is environmentally irresponsible.
"I'm willing to take a bet that no other industry spends as much. I certainly doubt that the manufacturers of cement spend 30 or 40 billion each year lowering their CO2."
Think about that if you start feeling pangs of guilt as you fly out of Auckland en route to Nadi, Sydney, Beijing, San Francisco or London.