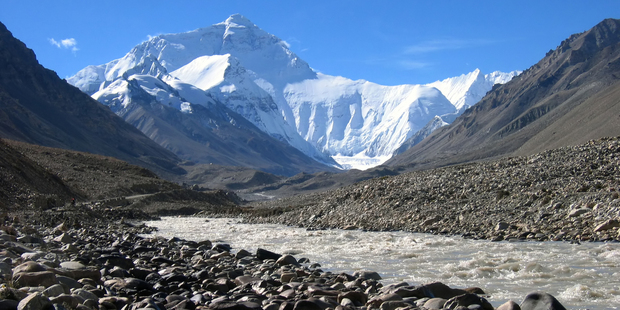 Climbers tackling the world's highest mountain will now be able to access email and the internet after the information superhighway made its way up Mount Everest.
A private telecommunications company has announced 3G services are now available at the Mount Everest base-camp located at 17,388ft. To celebrate the establishment of eight base stations along the route to the camp, Nepali company Ncell arranged a special video call.
"Today we made the world's highest video call from Mount Everest," Ncell chief Pasi Koistinen told reporters in Kathmandu.
Until now, climbers have had to depend on expensive satellite phones to remain in touch with their families and expedition officials. The new service will provide fast surfing on the web, the ability to send video clips and emails, as well as to make calls at far cheaper rates than the average satellite phone, the company said. It will be ideal for climbers updating blogs and online journals about their climb.
"This achievement is as mighty as the altitude, as 3G high speed internet will bring faster, more affordable telecommunication services to the people living in the Khumbu Valley, trekkers, and climbers alike," said Lars Nyberg, the head of the Swedish telecommunications firm TeliaSonera, which owns 80 per cent of Ncell.
The services available to trekkers and climbers will be better than that enjoyed by many ordinary people in Nepal, a country which suffers from widespread poverty and for which trekking and tourism is a key source of foreign revenues. Currently only around a third of the population has access to modern telecommunications.
Ncell said TeliaSonera would spend over $100m to expand its facilities in Nepal next year and ensure mobile coverage to more than 90 per cent of the country's population of 28m. Two years ago, when TeliaSonera entered the Nepali market, mobile penetration was about 15 per cent.
What is not yet clear is whether the service will reach the summit of Everest, situated at 29,029ft. The company claims the signal will reach that high, though it admitted that it has has not yet been tested. Climbers who have reached the top have previously depended on either satellite phones or a voice-only network set up by China Mobile in 2007 on the Chinese side of the mountain.
Four of the eight base stations are being operated using solar power. There are back-up batteries that can power them for around three days if the solar energy systems do not function for any reason. It's estimated that the internet and phone services could be used by up to 50 people at a time. While hundreds of people have climbed the mountain, officials say there are several hundred people around the Base Camp area every year.
Climbers have said the new network will be a considerable improvement on what went before. "The erratic and expensive satellite connection that many times does not work for days will be replaced with this service, making it possible for all climbers to keep in touch with their organisers and family," Ang Tshering Sherpa, a member of the International Mountain Protection Commission, told the Agence France-Presse.
"This will also be helpful, possibly, when there is an accident or an expedition mishap."
- INDEPENDENT