If you really want to appreciate a garden, you need to stay in it, writes Chris Samsara.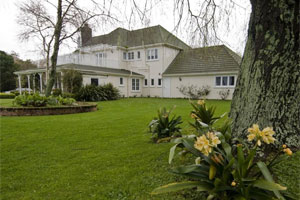 The 23rd Taranaki Rhododendron and Garden Festival gets underway on Friday and runs until November 7 with 49 gardens - nine more than last year - open to visitors.
Last year the festival attracted 50,000 garden visits and this year it expects to do better. But for those who wish to truly immerse themselves in the botanical atmosphere, three of the gardens also provide accommodation: One of them is in New Plymouth itself, a second is 6km out of town and the third is about 30 minutes drive around the coast.
Hirst Cottage has been in New Plymouth for almost as long as the town has existed. When Mr and Mrs Hirst arrived from England in the 1850s, they built a house for themselves and a cottage for each of their five children. This family enclave became known as the hen and chickens. The path connecting them became Petticoat Lane.
The cottages were classified as heritage buildings in the 1980s and sitting behind their white picket fences, shaded by oak trees, they are a pinch of Plymouth in New Plymouth.
Judi Gopperth moved in to the middle chick six years ago. Along with the self-contained apartment, where guests stay, she has reworked every interior surface. The exterior remains 1850s but the interior is 2010. Very stylish.
With the garden, she says, "I cleared the canvas." Out came 15 tree stumps and a jumble of jungle. In went retaining walls, paving, and plants that set this place apart.
When Judi buys plants, they've got to have scent, green foliage, and white flowers. Set against the white board-and-batten cottage, the whole looks crisp and clean.
Ratanui Villas' roots go even deeper into New Plymouth's history. The rata that gave this place its name was reputed to have a diameter of 5m. Shortly after nurseryman John Nairn arrived in the early 1840s, more trees were planted. The Chinese juniper, stone pine, and hawthorn trees are the tallest of their kind in New Zealand. The Hinoki cypress the largest. While the Mediterranean cypresses, Japanese twisted cedars, and Italian cypress are impressive, they are not what caught my eye. It was the Bunya Bunya pines.
Long thin branches stretch horizontally from a trunk that's as tall and slender as a ship's mast. A small cluster of leaves gather at their ends. In the strong winds they made a whipping sound as they swished back and forth.
The Ratanui Villas are tucked into a corner of this 3.4ha property, with smaller gardens and 350 rhodos. When Dianne and Stefan Campbell bought this place in 2005, the rooms grooved in their 1970s decor. A revamp has shot them into the 21st century.
I watched Arthur become king, save the world, and win the girl on a DVD. The following morning, I ate breakfast brought to me on a tray. A big tray.
About 30 minutes south of New Plymouth, 4km from the coast, is the Goodin Country Garden home-stay. But that's not an accurate description. It's not just a home stay. It's a family-home stay.
When Steak (a nickname bestowed on him at primary school) and Christine Goodin built this home 25 years ago, it was for them and their six children. The garden is spacious and Steak reckons he can get anywhere with a tractor. The house is two storey's and there's enough room in every room to swing a cow.
Photographic portraits hang on the walls of the family and of the kids, tracking their lives from toddlers to teenagers to whatever's next. They've flown the coop now and the doors are open to all who pass, including kids and pets.
Steak says many find it hard to sleep here because it's quiet. Country quiet. The house is sheltered by trees and I couldn't see another house or hear another person. Though, being a working dairy farm, I did hear the occasional moo. At dinner, we passed bowls of mashed potatoes and peas and roast chicken and more around the dining table. Same thing at breakfast, shared the meal together. Like a family.
CHECKLIST
Further information: Hirst Cottage is at 94 Pendarves St, New Plymouth. Phone (06) 769 9244. Price depends on length of stay. Ratanui Villas is at 538 Carrington Rd, New Plymouth. Phone (06) 753 2180. Festival tariff for one to two bedroom units is $115 for two nights. Studio units and a three-bedroom house are also available. Goodin Country Garden is at 158 Mirikau Rd, Okato. Phone (06) 752 8160. Price depends on requirements but starts at $100 per room.
Garden festival: For more about the festival see rhodo.co.nz.