If sweeping sea views, early morning bird calls, solitude and solar power appeal, Raglan's Solscape Eco Retreat is a great place to recharge from city life, writes Joelle Thomson.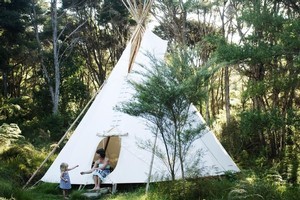 Over-stressed, under-holidayed, time-poor and heading off to recharge at a tipi retreat in Raglan for a week," wrote a fellow journalist friend who works full-time, is studying a law degree and raising children. "Join me," she added.
Raglan. The name conjures up images of wild, windswept West Coast beaches, rugged bush and surf culture. And the idea of a tipi retreat seemed to fit right in with the out-of-the-way, laid-back impression Raglan exudes. So, able to relate to the under-holidayed, time-poor sentiments, I jumped in the car and drove from central Auckland to what felt like Middle-earth by comparison.
The drive to Raglan is lovely. The Southern Motorway can't be completely avoided, sadly, but it fades fast after turning off State Highway 1 on to State Highway 39 and venturing on to the verdant, rugged bush-lined country roads.
Raglan is a coastal town with a permanent population of about 3500. Tourist numbers drop in winter but even at its buzziest mid-summer holiday peak, it isn't crazy busy.
Bare-footed locals and tourists are de rigueur on the quiet streets of this little slice of surfville.
It's easy to see why Raglan Information Centre asserts that this is one of the most unspoilt spots in the North Island.
The black sand beaches, sweeping coastal views and regenerating native bush are vast, expansive and dense.
Ten minutes' drive from Raglan township is Solscape Eco Retreat. Phil McCabe and Bernadette Gavin bought the Raglan Wagon Cabins eight years ago and have gently transformed the landscape, adding tipis to the retreat's collection of cabooses, cabins and cottages. Renewable energy workshops, permaculture courses and yoga are regular fixtures on the Solscape calendar. And the retreat's owners are active participants in Raglan's zero-waste initiative. There are three on-site practitioners of shiatsu, aura healing and "cultural bodywork" - which only sounds off-beat until you try one of these kahuna-based Hawaiian massages - best described as limb-relaxing nirvana. It was followed by pizza, home-made in the wood-fired oven in the bush clearing, and a quiet night in a tipi. The only hard part was having to leave.
Traveller's tips
* How to get there: Raglan is about two hours' drive from Auckland. Take the Southern Motorway then State Highway 1 to Ngaruawahia; turn off to Raglan on State Highway 39. At Raglan, follow Wainui Rd to Manu Bay. Solscape is signposted to the left, up a steep road.
* Where to stay: Cottage, caboose, carriage or tipi? Solscape has them all. Tipis (available from December to April) from $34 twin share; cabooses from $28; cottages from $140; Overlander train carriage from $120. Studios, tent and van sites also available. Solscape Eco Retreat, phone (07) 825 8268 or email: info@solscape.co.nz or see solscape.co.nz
* What to do: You'll find maps and information at the Raglan Information Centre, phone (07) 825 4515 or raglan.org.nz
* Surf at Manu Bay, where the famous break lures surfers from all over the world.
* Visit the Raglan Arts Centre and the Matapihi Gallery - a diverse contemporary Maori art gallery. Both are in Raglan township.
* Go horseriding with Magic Mountain Horse Treks - 1 hour $40, 1.5 hours $55, 2 hours $60. Ride to the Bridal Veil Falls $80. Half-hour pony rides $30, ph (07) 825 6892 or 021 035 8998.