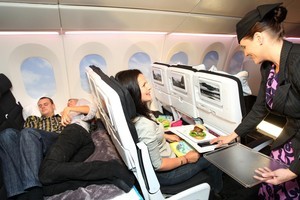 Remember cuddle class? The revolutionary Skycouch idea that Air NZ announced - along with several other high-flying innovations - to a fanfare of bugles and drums at the start of this year.
Well, in case you were wondering, cuddle class seats are still on track. In a sense they went on sale six months ago, though you can't be sure of getting one until April next year.
The plan has always been for the assorted changes - which so enthused the aviation industry that Air Transport World magazine named Air NZ its Airline of the Year - to be introduced with the arrival of four new Boeing 777-300 aircraft.
Those planes are due to begin delivery in November and they'll gradually start being used on Auckland-Los Angeles and then transtasman services.
As a result the first passengers to check-out the much-awaited innovations - including those economy-class Skycouch seats which convert into a narrow double bed - will be folk who just happen to be on flights assigned to the new 777-300s.
As Air NZ put it to me, "If the customer ends up on a 777-300 they will be surprised and delighted about getting to experience the new product."
The first flights on which you'll be guaranteed a 777-300 and the chance to sleep cuddle class will be NZ1 (London Heathrow-Los Angeles-Auckland) and NZ2 (Auckland-Los Angeles-London Heathrow) from April next year.
Air NZ declines to reveal its forward bookings for the new-look planes, claiming the information is "commercially confidential", but you'd have to imagine there'd be quite a few people keen to be the first to try cuddle class.
And, let's not forget, there's a lot more to the new look than being able to fold down your economy class seats and snuggle up alongside your loved one or your kids.
There will also be improvements to the seats in basic economy - thicker upholstery, a better headrest and a bit more room, hurray - premium economy and business premier.
The entertainment system is said to have been improved. And Air NZ says the food and drink service will be revolutionised. Instead of everyone being served at once you'll be able to order food when you want it through your touch screen and the meals will be cooked in proper ovens instead of just being warmed up. Sounds yummy.
The 777-300s are also supposed to feel more spacious and have a more congenial atmosphere.
It seems a long time since cuddle class was first unveiled but, if it lives up to the hype, it'll be well worth waiting for.