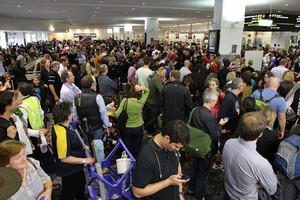 Hundreds of passengers were stranded at Australian airports for a second night last night as Virgin Blue struggled to clear a backlog caused by a computer crash on Sunday.
At least 18 flights within Australia were cancelled yesterday, and Pacific Blue passengers in New Zealand endured a second day of delays following the collapse of Virgin's computerised check-in system.
Although the problem had been fixed by yesterday morning, there were long queues at Australian major city airports, with some travellers failing once again to catch flights out.
The airline, Australia's second-largest carrier, was forced to cancel more than 100 flights on Sunday, leaving about 5000 people stranded in Sydney, Melbourne and other cities. There were more scenes of chaos at its terminals yesterday, and Virgin's offer of overnight accommodation, along with free pizzas, doughnuts and bottles of water, did little to mend frayed tempers.
Jan Penrose, whose relatives had been waiting since Sunday morning for a flight home to Queensland from Melbourne, said the airport was filthy and they were "distressed and worn out". Virgin Blue had advised them to book flights with another airline in order to avoid spending a second night away from home, she told ABC radio.
In New Zealand, domestic and international Pacific Blue flights were delayed by up to two hours yesterday as a result of the continuing problems. In Australia, Virgin advised passengers to delay nonessential travel, and it suspended new bookings for flights departing before Thursday. It also promised to compensate affected travellers by crediting them with a free flight on the same route.
However, some passengers complained bitterly about a lack of communication. Simon Dowling, stuck in Melbourne, said that he waited an hour and 40 minutes to get through to Virgin's call centre - only to be told "there was nothing they could do".
Another frustrated traveller, Martin Wright, said: "The advice to check the website or phone is useless advice. The phone line has been so congested that you can't even get on hold."
Virgin Blue said the problems were caused by a computer hardware failure which forced it to switch to manual check-in.
In a statement yesterday, it said that while check-in procedures had returned to normal, "the airline requests the ongoing patience of guests ... as we work through flow-on effects of [Sunday's] network-wide disruption".