Jill Worrall sets off on a late-winter roadtrip.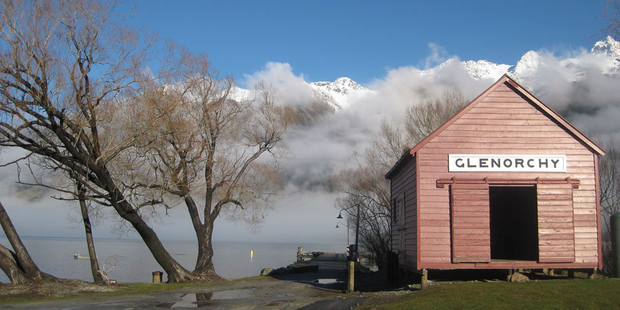 The snow has been graded into icy, grubby low walls that flank Fairlie's main street. There's little sign of a thaw today because low cloud clings to the surrounding hills, trapping the chilly air.
It lies even deeper through Burkes Pass and a bus load of tourists are picking through it very carefully around the Church of the Good Shepherd beside Lake Tekapo. But near Twizel the snow vanishes and as we drive towards the Lindis, it's irrigation rigs and green pastures that stretch away on either side of the state highway.
This was once arid grassland - the realm of rabbits and sheep. I know the transformation is bringing economic benefits but there's something not quite right about cows grazing here - it's a bit like finding merinos being mustered near Hamilton.
We eat lunch beside Lake Dunstan, itself the result of another major landscape change - this time due to the creation of the Clyde Dam. The lake is starting to look more established as trees and subdivisions grow along its shores.
Just outside Cromwell, not far from its giant bowl of enormous fruit, we stop at a fruit stall and buy bags of apples, reminders of Central Otago summer sunshine. There's a display of bank notes on the wall - the whole world appears to have been here.
The proprietor joins us in front of the display "This one's new," she says pointing out a United Arab Emirates note.
"It was a big gleaming people mover - they had minders and all the women had Louis Vuitton handbags and Gucci shoes and they were dripping with gold jewellery. I thought 'what are they going to find in my fruit shop?'"
It all sounded very Queenstown to me and soon we were there, although there was no sign of any flash handbags. In fact the streets were surprisingly empty, except outside Fergburger where, despite the fact it was now well after lunchtime, a queue was stretching from the front door and curling down the pavement.
And North Islanders, if you want to eat one of these you'll have to come and get it, just the way we Mainlanders are going to have to make a pilgrimage north to visit Party Central.
The difference is a Fergburger isn't going to set you back quite as much in taxes and I bet you won't be able to buy a Holier than Thou or a Bun Laden burger anywhere near the Viaduct Basin either.
But we weren't stopping, because beyond Queenstown lies the road to Glenorchy, a place I'd never been before.
Tantalizing though the whiff of a gourmet burger might be, the lure of a new destination was stronger.
The road to Glenorchy winds along the shores of Lake Wakitipu for 45km - across the lake Cecil and Walter peaks are both visible and, as if commanded by Queenstown's tourist office, the Earnslaw is steaming back to Queenstown as we head in the opposite direction.
Hidden behind imposing stone gateways, screened from the eyes of the great unwashed are several luxury lodges - this is the realm of the $1000-plus a night (for two, lest you be too shocked) accommodation options where "how to find us" instructions include entries on private jets and helicopter hire.
But the view that unfolds from Bennett's Bluff is equally spectacular, whether you're just alighted from a chauffeur-driven limousine or a Honda that's just ticked over 200,000km.
The lake is limpid, lapis lazuli blue - it sparkles where the late afternoon sunshine strikes it near three low-lying islands.
At the head of the lake the braided channels of the Dart River glint in the light and behind them rises the snowy bulk of Mt Earnslaw flanked by more peaks, raw-ridged and precipitous, testaments to glacial attack and geological upheaval.
I'm a Cantabrian - which means the Crusaders should always win and our alpine scenery is unsurpassed - but maybe I'll have to revise my creed (not about the rugby of course). This landscape absorbs superlatives and leaves few behind to use - it is crystalline, pristine, majestic. No wonder there's a place beyond Glenorchy called Paradise.
I'm going to go there... I believe the entry requirements are not so stringent as the rather better known one.