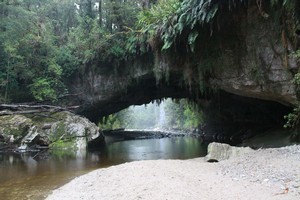 Sitting under the great stone arch of the Gate of Moria, with the forest growing on top and the tea-coloured Oparara River flowing beneath, I find myself musing upon ... orcs and goblins and, ulp, balrogs.
Partly that's because the name comes from The Lord of the Rings. But it's also because this part of the Kahurangi National Park feels like a place where you'd expect to find creatures from Middle Earth.
The nearby Honeycomb Hill Caves, which I'm visiting later, are filled with ancient bones, gloomy underground rivers and weird stone sculptures, just like the refuge of some horrid troll.
The forest guarding the arch is a mysterious place of trees so ancient I half expect them to talk, drooping mosses - one variety is even known as goblin moss - monstrous fungi, carnivorous-looking epiphytes, drifting mists and countless dark holes - some carved out of the limestone cliffs, others scraped under the roots of trees - where strange things ought to dwell.
And the Moria Gate Arch itself, 19m high and 43m wide, carved out of limestone and framed by stately birch and matai, alternately fading into the misty rain or spotlit by sporadic rays of sunshine, looks like a place where elven kings would congregate.
Today, however, there's only me and two members of the Oparara Valley Project Trust, a community group set up to develop this place as a tourist attraction.
It's one of these guides, Malcolm Hansen, who interrupts my fairy tale musing.
"Around 2 o'clock," he says, "the blue ducks come down the river here. I'm not sure quite why it always seems to be that time. Maybe that's when they've finished feeding the kids and tidying the nest."
Personally I would not be surprised to find these unusually punctual blue ducks - a rare species, by the way - were radio-controlled.
After all, on the way here I no sooner start asking about the birdlife than a natty black and white South Island robin flutters down and starts ostentatiously posing for photos.
"Well done," Peter Sampson, the other trust member showing me around, tells the bird. "You'll get your handful of pellets shortly."
Soon after, a weka pokes out of a clump of fern and turns its head artfully to give me a better shot, just like a professional model.
Then, when we take the path across the top of the Moria Gate Arch to a viewing point on the other side of the river, there are huge moa tracks along the surface. Where did they come from? Malcolm grins and instead of answering tells me that nine different moa species have been found in this area.
Unfortunately we can't wait until 2pm to see if the blue ducks turn up on schedule - though I'm sure they did - because there's much more to see.
Instead we head for the Oparara Arch - a limestone bridge 219m long with a tunnel under it 79m wide and 43m high - much bigger than the Moria Gate but not as pretty. Clearly this is a bridge carved by giants rather than elves.
Then it's time to enjoy the lunch you get if you go on one of their full-day tours. It's a good indication of just how community-based this operation is that the lunches are actually made by trust chairman, Rosalie Sampson, despite the fact she is deputy-chairman of Buller District Council and on pretty much every committee in Karamea. And fantastic lunches they are, too.
Next we're off to the Honeycomb Hill Caves, for which the trust has a concession from the Department of Conservation, providing a source of income for further projects.
It's easy to see why the hill got its name because its limestone is literally honeycombed with caves. There are several openings alongside the path and as we walk Malcolm tells some cheerful yarns about unwary bushmen or hunters who wandered off the beaten track and vanished down unseen holes.
Over the thousands of years these caves have existed countless other creatures have met the same fate and it is their bones, rather than the huge underground halls, ceilings twinkling with glow worms, spectacular limestone formations or rushing subterranean rivers, which make this place unique.
As we pick our way over the rocky surface, our way lit by our headlamps and Malcolm's powerful spotlight, he explains that these caves have produced the largest collection of sub-fossil bird bones found in New Zealand, some of them 20,000 years old.
These include several extinct species like various moa, the giant New Zealand eagle, a giant weka, ducks, a giant goose, coots, wrens and owlets.
In addition there are the bones of unwary kiwi, kakapo, kokako and takahe which also fell to their deaths and, Malcolm adds, "I've even found a few deer and once a stoat ... which is good news."
Just inside the entrance the skeleton of a moa is laid out on a rock. "It used to be complete," he explains crossly, "but a so-called bona fide caver came down this slope, stood on the skull and crushed it." Sure enough, at the head of the column of vertebrae is a sad little puddle of yellow dust.
The skeleton looks huge to me but Malcolm says, "This isn't one of the giant moa. In fact it's quite a small one."
At various other points in the cave I'm shown kakapo bones, the skull of a kiwi, the shells of several kinds of snail and lots more moa bones, again some of which look huge to me, more like the leg bones of a bullock than a bird, but apparently still not from the giant species.
Down one hole in the cave floor the spotlight picks out an amazing pile of bones which, according to Malcolm, are "mostly kakapo and moa ... and those big ones actually are from the giant moa". They're enormous.
Certainly the caves themselves are fascinating, especially in the places where holes in the roof allow a greenish light to illuminate the gleaming stalactites and stalagmites below, but it's these reminders of the giant birds which once ruled this land that I find most impressive.
Back out in the daylight Malcolm finds plenty of other interesting things to draw attention to, including an unusual weeping mapou "which, like the lancewood, is probably an adaptation to protect the plant from browsing moa".
At one point he stops excitedly at a greenish patch on the surface of the track, "which may be bat droppings". Apparently the short-tailed bat, thought to have been extinct in the South Island, was rediscovered near here about 15 years ago by local Forest Service and DoC worker Barry Chalmers. "We'll have to follow that up."
Then he plunges into the bush to show me some reminders of the selective logging which continued in these forests until it was banned in 2002. Two huge sets of rusting steel caterpillar tracks lie abandoned on the forest floor, next to a log with a broken steel cable wound round its base, felled but never taken out to be milled.
There's a further reminder of the Oparara Basin's logging history at the start of the road that leads here, the slowly collapsing remains of McCallum's Mill, which gave its name to the access route.
Ironically, it's thanks to the logging of native trees that visitors are now able to explore the remarkable attractions of the Oparara Basin on the trust's network of top-class tracks - including one for mountain bikes - and enjoy the car park, shelter, toilets and numerous interpretation panels it has also built.
It was bushmen and Forest Service workers who pinpointed many of the caves and arches; the logging companies created the access roads and formed most of the tracks; the government ban on logging native timber, along with the closure of the Karamea Dairy Factory, was what prompted locals to transform the basin into a tourist attraction; and Development West Coast, set up to manage the $92 million in government compensation for lost logging revenue, helped the project financially.
"We thought Oparara had the potential to attract a lot of tourists into the area," explains Rosalie, during a break from making lunches and chairing meetings, "but it was being held back by the lack of facilities. There was a lot of talk about upgrading things but no one was actually doing anything. So we decided to make it happen ourselves."
A trust was formed, a committee established and for four years members beavered away filling forms, writing reports and applying for grants until they had managed to extract $3.2 million in funding.
Then, when tenders were called and proved costlier than expected, the trust decided to do the job itself, with Malcolm as project manager and a team of local workers. "It took two years," says Rosalie, "and we finished up on time and within budget."
All of that sounds like the sort of magic another Lord of the Rings character would have been proud of: Gandalf.
CHECKLIST
Getting there: Air New Zealand has several flights a day to Westport out of Wellington and Christchurch.
Avis Westport provides rental cars from the airport. The drive from Westport to Karamea takes about an hour and a half.
Where to stay: Riverstone Karamea provides modern chalets overlooking the Karamea River.
Where to eat: Riverstone Karamea has an excellent restaurant. The gnocchi in a sauce made from their homemade blue cheese is superb.
You can also get good food at The Last Resort hotel and restaurant. If the scallop and black pudding with bacon and hollandaise sauce is on the list of specials, then grab it.
What to do: You can find out about the Oparara Trust and its guided tours at oparara.co.nz.
Further information: For more about visiting the West Coast see west-coast.co.nz.
Jim Eagles visited Karamea as guest of Tourism West Coast.