The rural town of Gore has turned itself into a creative hub, writes Anna Hart.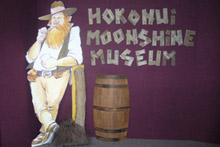 Gore might have one of the least appealing names on the planet, but this pint-sized Southland town is proving a hit with everyone from European art fanatics to Auckland fashionistas.
There's certainly a lot more to it than a large plastic fish and mobs of farmers protesting their heterosexuality.
For a start, there's memorable accommodation, in the shape of Mainholm Lodge, a grand four-bedroomed Victorian mansion tucked in extensive grounds. The lodge is quirky and luxurious in equal measure, with four-poster beds, roll-top baths and chaise longues all vying for the attention of us burnt-out city-dwellers.
If it feels like a film set, that's because it is one: Spend the night in The Returning room, named after the 1991 "erotic and supernatural thriller", and you're kipping in the same king-size bed where a ghostly seductress visits a city lawyer in his dreams to make melodramatic love to him.
While such visitations are no longer on the list of services for guests, the Welsh owners, Graham and Sandi Larsen, can arrange almost anything else, from murder mystery evenings to wild-game hunting and traditional high teas.
After a predictably excellent breakfast, we set off for a morning of culture in Gore. Stop sniggering at the back; the Eastern Southland Art Gallery has placed Gore firmly on the map, for art-lovers and artists alike.
This is primarily due to the efforts of founder and director Jim Geddes, who, with wild hair and a bounce in his step, is an immediate assault on the stereotype of the Southland man.
The gallery, wincingly nicknamed the "Goreggenheim" by Saatchi & Saatchi boss Kevin Roberts, contains the largest Ralph Hotere collection in the country. It also holds the John Money Collection, an impressive array of New Zealand, Australian, African and American artwork gathered over a period of 50 years by a Baltimore-based Kiwi sexologist.
In addition, for the past 17 years it has hosted visiting artist programmes, workshops and performances, and it is now home to the Muka Studio (once Auckland's lithographic and visiting artist studio), firmly establishing Gore as the creative hub of Southland.
After admiring a few Theo Schoons and Rita Anguses, we crossed the road to the Hokonui Moonshine Museum, also curated by the effervescent Jim. As a small-town museum, it's perfection. The fascinating history of illicit whisky-making in the region is explored via an array of audio-visual displays and artifacts showing Kiwi ingenuity at its most determined. For those who'd rather drink their history out of a tumbler, there are plans afoot to make Hokonui Moonshine on the premises.
Now to investigate if this thriving creative scene has resulted in a burgeoning cafe culture. The Green Room Cafe comes recommended by Jim and serves up excellent coffee and homemade cakes.
As for Gore's dining scene, well, it recently received the ultimate test, when five of New Zealand's top fashion designers - including Denise L'Estrange-Corbet of World and Adrian Hailwood - visited for the annual Hokonui Fashion Awards. We can report Casa Bella, an Italian restaurant in a converted house, had all them raving about the entrees.
If you're prepared to look a little further afield, the sleepy town of Wyndham is well worth the 20-minute drive for a plunder in A Little Bird Told Me, a teahouse and boutique that wouldn't be out of place in Ponsonby. For longer day trips, Oreti Beach (where Burt Munro smashed speed records on his 1921 Indian Scout) is dramatic and windswept - and the Catlins and the jumping-off point to Stewart Island are just a short drive away.
So far, so good, but Gore has another ace up its sleeve. Just a 15-minute drive from town you'll find the Old Mandeville Airfield, where for the princely sum of $95, you can boast that you've done a loop-the-loop in a Tiger Moth. However, if you think taking to the air in a 1930s relic best remains a spectator sport, the stylish on-site bar and restaurant, The Moth, seduces with a roaring fire and passionate new chef.
CHECKLIST
Where to stay: Mainholm Lodge, 592 Pomahaka Rd, from $150-$290 per night.
Where to eat:

* The Green Room Cafe, 59 Irk St.
* Casa Bella Restaurant, 81 Hokonui Drive.
* The Moth, Old Mandeville Airfield.
What to do:
* A 10-minute flight in a Tiger Moth costs $95 at the Old Mandeville Airfield.
* The Eastern Southland Art Gallery, 14 Hokonui Drive.
* The Hokonui Moonshine Museum, 16 Hokonui Drive.
* A Little Bird Told Me, Redan St, Wyndham.
Anna Hart visited Gore with help from Venture Southland.
By Anna Hart