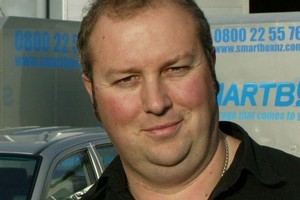 Do you travel light or heavy?
Very, very light, however if we take the the kids we need a Smartbox truck and trailer to fit everything in.
Cattle or first class?
Definitely cattle class. We travelled first class once with kids on a 22-hour flight and we made no friends that day.
I can't travel without...
A toothbrush.
What type of suitcase do you carry?
Just a small carry-on.
What's always in your hand luggage?
My toothbrush, iPad & clean Smartbox shirts.
Are you a planner or last-minute packer?
Planner for sure - everything gets packed and planned around midnight the day before!
What's the best thing you've brought back from a trip?
An extra 65kg of kids' Christmas toys. That's when the Smartbox truck and trailer came in handy.
Favourite or most exciting airport to land in?
Dubai.
Best packing tip?
Never forget your toothbrush.
Most memorable trip?
Travelling first class in the new A380 (with a 2-year-old and a newborn baby) on a 22-hour flight.
What do you do while on the plane - listen to iPod, watch the movie, sleep, read, panic?
I listen to my iPad, try and sleep - and yes, sometimes I panic!
Steve Phillips is the founder of SmartBox, a mobile self-storage solution that is celebrating four years of business this year.