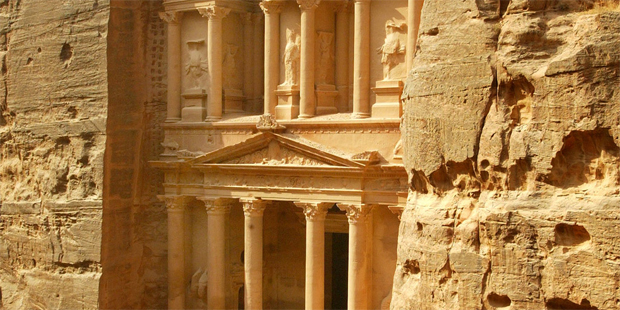 Spectacular 2000-year-old Hellenistic-style wall paintings have been revealed at the World Heritage site of Petra in Jordan.
The paintings, in a cave complex, had been obscured by centuries of black soot, smoke and greasy substances, as well as graffiti.
Experts from the Courtauld Institute in London have removed the black grime, uncovering paintings whose "exceptional" artistic quality and sheer beauty were said to be superior even to some of the better Roman paintings at Herculaneum that were inspired by Hellenistic art.
No Hellenistic paintings survive today and fragments only hint at antiquity's lost masterpieces, while revealing little about their colours and composition, so the revelation of these wall paintings is all the more significant.
They were created by the Nabataeans, who traded extensively with the Greek, Roman and Egyptian empires and whose dominion once stretched from Damascus to the Red Sea and from Sinai to the Arabian desert.
Such is the naturalistic intricacy of these paintings that the actual species of flowers, birds and insects bursting with life can be identified. They were probably painted in the first century but may even date back to an earlier time. Professor David Park, a Courtauld wall paintings expert, said that the paintings "should make jaws drop".
At the instigation of the Petra National Trust, conservation experts Stephen Rickerby and Lisa Shekede restored the paintings. The work took three years and was completed only last week.
"The paintings were a real mess," Rickerby said.
He described what has emerged from the blackened layers as "really exceptional and staggeringly beautiful, with an artistic and technical quality that's quite unlike anything else".
Three different vines, grape, ivy and bindweed - all associated with Dionysus, the ancient Greek god of wine - have been identified, while the birds include a demoiselle crane and a Palestine sunbird with luscious colours.
The scenes are populated with putti-like figures: one winged child playing a flutewhile seated in a vine-scroll, others picking fruit and fighting off birds pecking at the grapes.
The paintings are exceptional in their sophistication, extensive palette and luxurious materials, including gold leaf.
Rickerby said: "This has immense art-historical importance."
Petra - the Greek word for "rock" - is one of the world's most famous archaeological sites, where ancient eastern traditions combine with Hellenistic architecture, with monumental buildings sculpted out of the solid red sandstone.
A Unesco World Heritage site since 1985, it was the Nabataeans' capital, flourishing as an economic and religious centre from the third century BC for about 400 years.
WHO WERE THE NABATAEANS?
Few Nabataean manuscripts survive but it is through ancient historians Strabo, Josephus and Diodorus that we know something about them and their culture.
Diodorus wrote of a people with diverse characteristics who were "exceptionally fond of freedom". Strabo described them as "exceedingly well-governed" with few slaves, banquets with girl singers and "drinking bouts in magnificent style" held by the king, in which "no one drinks more than 11 cupfuls, each time using a different golden cup".
The Nabataeans were among the most successful merchants of their day, trading in spices, medicines, precious jewels and metals.
Exotic goods were brought by ship to ports in southern Arabia from India and the Far East and taken overland to the Mediterranean. Accusations of a monopoly on many of their goods brought complaints from the Egyptians, Greeks and Romans when they hiked up their prices.
They first appeared to history in 312BC in a cuneiform inscription, recording their defeat of a Syrian army. Although originally a nomadic people of ancient Arabia, they built the spectacular city of Petra as their capital. Such was its fame in antiquity that it was mentioned in Chinese records, as well as those of ancient Greece, Egypt, Rome and Byzantium. It boasted magnificent buildings and piped water throughout the city.
- OBSERVER