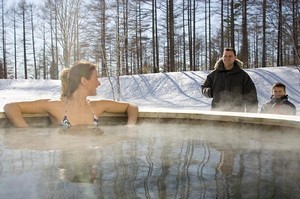 It's 10pm in the Wakka Bar at Club Med Sahoro, Hokkaido Japan. On the other side of the vast windows a thick curtain of snow is falling.
It is, to quote the Club Med ski guides, "puking it down". Nice. But icky as that sounds, it is good news - as evidenced by the line-up of those guides with their excited faces pressed against the icy windows. The many inches of snow that will eventually fall overnight means the next day is that most precious of things: a powder day.
Hokkaido, Japan's northernmost and second largest island, is world famous for its powder snow and even a relative novice like me can appreciate its fine qualities.
For the expert snow bunnies in our group, however, it apparently represents some kind of pillowy nirvana. Barely were we off the bus from the airport when they had disappeared in a clatter of abandoned suitcases to throw themselves into the powder, snowboards in tow, like a crew of starved miners striking gold.
On powder days, breakfast in Club Med Sahoro's Daichi restaurant, despite being a buffet feast of every kind of breakfast food imaginable - and a few you'd never thought of - resembles a pitstop with hungry skiers racing to fuel up for a morning on the slopes. Come 9am, when the first gondola makes its run up the mountain, the restaurant is deserted, just a few forlornly spinning chairs remain as skiers and snowboarders stumble over each other to get out on the snow.
It is at this point, as a skier used to the mixed joys of carting gear to the snow from the outer limits of Mt Ruapehu's Whakapapa carpark, that I truly appreciated the beauty of these four lovely words: ski in, ski out.
With gear rented on our arrival the night before, the day's skiing is merely a case of buckling up in the gear room and sliding seamlessly on to the snow. Sweet. Except that in a rash decision I abandon the skis to take advantage of Club Med's ski school with snowboarding lessons.
Lessons, included in the price of your stay, are graded into several skill levels. The groups are kept small, a maximum of about 12 people, so everyone gets the attention required. The idea is that you progress through the levels during your stay so by the end of your holiday you'll at least have the basics mastered.
And the system works, at least as long as your patience lasts. My patience lasts a lot less than that of my Aussie instructor, who seems quite happy firing off a list of instructions.
Like all beginner snowboarders, I spend a good deal of this first morning on my backside, teetering between falls along the almost flat starter "slope". By midday my thighs are throbbing from the constant need to haul myself back to my feet. Thank heavens it's lunch time.
Meals at Club Med snow resorts are hugely social affairs. Unlike sun resorts where come lunchtime most guests have been rendered slightly catatonic by an exhaustive morning reading by the pool, almost everyone at Sahoro is here because they love to ski, want to ski, are desperate to ski* (*insert snowboard where applicable). During meal times everybody mingles between tables catching up with people they've met on lifts or falling into snowdrifts. Beginners compare bruises while the experts swap information about the best runs and jumps (the skites).
To go with all that fresh powder, the morning has been all crystal clear skies and no wind, meaning those experts are bursting with excitement. A member of our group, who has snowboarded all over the place, is adamant that it has been her best snow day ever. And that is a big call to make - it is only just lunchtime.
The facilities here for intermediate to advanced skiers are extensive with plenty of more challenging runs, but crucially, Club Med guides will also take experts off-piste, where they can happily swamp themselves in chest-deep powder.
Their giddy whoops are enough to get a weary beginner snowboarder creakily out of her seat and back on to the beginner slope again. And by the end of the afternoon, under the guide's expert tutoring, I am managing to stay mostly upright and starting to get the hang of turning, and coping with steeper slopes.
And then I meet the scorpion. No, not the poisonous, pointy-tailed critters usually found in deserts - I think they might be more pleasant. I mean the snowboarder's dreaded scorpion. The term refers to the particularly harsh face-plant in which the weight of your board carries your legs backwards at speed, contorting your spine into the kind of arch which should be attempted only by advanced yogis. My guide cheerfully tells me some people have fallen so hard their board has ended up smacking them in the back of the head. Enough, I decide quite sternly, is enough.
At that point I could merrily toss my snowboard in a woodchipper.
I remove the offensive item from my feet and stomp impatiently back the short distance to the resort buildings, my indignation slightly undermined by occasionally disappearing into deep snowdrifts mid-stomp. It's agood time to remember the joys of ski in, ski out. Within minutes of abandoning the skifield I am enveloped in the warmth of the rental hall, where the gear is stashed in the locker room for the next day. Meanwhile, some lovely Club Med angel of mercy is setting up a table laden with hot chocolate and waffles.
The next day I opt to give the backside a break and try snow-shoe walking, which is also a great chance to explore the wider resort area.
Disappointingly, we're given super-modern snowshoes that resemble giant plastic jandals you strap to your snowboard boots - they might be very effective but where are the retro tennis racquet-style shoes I remember from the cartoons of my childhood? Still, it is surprisingly fun, especially when it comes to trying to walk downhill on a snow drift. We trudge past a spectacular frozen waterfall and eventually loop through the trees to the rear of the resort where schools of baby skiers are whizzing around the kids' learning area.
Like all Club Med resorts, Sahoro has extensive child facilities which include ski lessons or other on- and off-snow activities for children aged up to 18.
As well as snow-shoe walking, there's plenty here for the grown-ups too - from snowmobiles and snow raft rides to an ice rink, indoor swimming pool, gym, exercise classes and a range of off-resort excursions.
If you're a beginner worried the runs higher up the mountain are beyond your abilities, it's also worth hitching a ride up the gondola to the top of the resort, where you can appreciate the stunning views down across the Tokachi Plains, and safely gondola back down again. Those views are so inspiring I abandon the snowboard lessons altogether on the third day and revert to the more familiar territory of skiing, tired of hearing how much fun everyone else is having higher up the mountain.
It had duly "puked" down again the night before so there's more luscious fresh snow to swish about in - although the weather has not been so kind today and the occasional wind gust whips the loose snow up into picturesque, if pushy, white-out swirls. Not to worry, after days of belly-flopping into snowdrifts on a board it's a relief to stretch the legs and make the most of the sweeping arcs and drops of the upper slopes on skis.
The day ends, satisfyingly, with a soak in the outdoor Canadian bath, with a view of the snow-laden trees. The wind has dropped away and snow is just starting to fall; those light powdery flakes showing their delicate hexagonal shapes on your bare skin before they melt away.
For the moment I'm choosing not to think about the breathtakingly icy dash back inside, instead letting the steamy water soak away all those ski aches and strains. If only I could persuade someone to fetch me one of those waffles and a spot of hot chocolate, then they need only scoop me out when it's time to catch the plane home.
NEED TO KNOW
Getting there: Air New Zealand operates up to six direct services between Auckland and Tokyo a week; connections with Japan Airlines to Hokkaido are available. Fly to Obihiro Airport where you'll be transferred by bus for the 70km trip to Sahoro; or into Sapporo where you travel by train from Minami for two hours to Sahoro. Phone 0800 737 000.
If you go: Hokkaido is about a 13-hour flight from Auckland, via Tokyo (stopover not included), making it about the same distance as a trip to the slopes of Canada if you're on the hunt for an alternative ski destination.
Don't be put off by perceived language difficulties in Japan. Most airport support staff speak English and are extremely helpful in getting you to your connecting flights, trains and accommodation. Once you get to Club Med everybody speaks English.
This northern summer off-season sees Club Med Sahoro upgraded to a "four-trident" resort with a refurbished bar area and new speciality restaurant, Mina Mina, serving a fusion of French cooking with traditional Hokkaido cuisine. Open from December 2010.
Hot deal: Club Med has five-night all-inclusive packages for Sahoro Japan from $6199 an adult and $4765 a child (aged 4-11), including return airfares and transfers. Prices are for bookings before August 31 and travel from January 29 to February 4, 2011. Packages include all food and drinks and ski passes and lessons.
Kerri Jackson travelled courtesy of Club Med and Air New Zealand