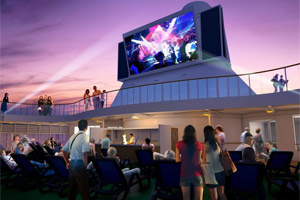 The launch of superliner Pacific Pearl in Auckland is a vote of confidence for the country, says Cruise New Zealand chairman Craig Harris.
The 63,500 tonne Pacific Pearl, owned by P&O Cruises, will be refurbished in Singapore in November and launched in Auckland on December 21.
"It's a vote of confidence for New Zealand," Harris said.
The Auckland-based superliner, which can carry 1800 passengers, will sail six cruises from New Zealand before redeploying to Sydney in February for her maiden Australian season.
The cruise ship industry had proved to be recession-proof, Harris said.
There was substantial growth with 113,000 passengers coming to New Zealand this year and bookings for 134,000 and 180,000 in 2010/11 and 2011/12 respectively.
It looked like the growth curve would continue, Harris said.
"It's a good story," he said.
"The problem that New Zealand has [is] we've got the growth but we are now getting very squeaky on the infrastructure to accommodate that growth."
Tourism Auckland chief executive Graeme Osborne said the superliner would be berthed here for an extended period during winter.
"It's going to be injecting visitor benefit into Auckland during what is normally our off-season," Osborne said.
"For a ship of that size to be parked at the bottom of Queen Street in the middle of winter is a magnificent outcome."
The sector delivered $100 million of economic benefit to Auckland, he said.
"This is just building the case and building the urgency for a new cruise ship terminal in Auckland."
Pacific Pearl would increase P&O Cruises' departures from Auckland to 15 in 2010/11 from 11 the previous year.
Ann Sherry, chief executive of Carnival Australia, which operates P&O Cruises, said Pacific Pearl would give passengers more choice than before.
A 7m by 4m LED entertainment screen on the pool deck would be a first for the cruise line.
"Pacific Pearl will be a wonderful addition to our fleet," Sherry said.
The superliner's first cruise will be an eight-night South Pacific cruise departing from Auckland on December 22.
PACIFIC PEARL
* Built 1987 and refurbished in 2010.
* 63,500 tonnes.
* 247m long.
* 1800 passengers.
* 11 decks and 788 passenger cabins.
* Maximum speed 21.5 knots.
AVERAGE CRUISE
* 80 tonnes of food and drink will be consumed.
* 72 chefs, cooks and bakers will make more than 8600 meals a day for passengers and crew.
* 96 waiters serving passengers.
* 13,000 plates, 10,000 glasses and 15,000 pieces of cutlery cleaned by 29 dishwashers each day.