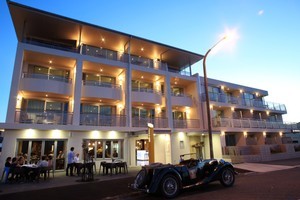 Napier, perched as it is near the southern end of Hawke's Bay, is a beach town. Okay, not in the same way as your Whangamatas or your Coromandels. But it's coastal and blessed with the kind of warm - or at least sunny - climate you associate with long, golden summers.
Still, if you're considering a cosy winter weekend away, you could do worse than the Napier seaside suburb of Ahuriri.
Like similar port towns around the country, Ahuriri's original ramshackle fisherman's cottages and run-down commercial enterprises have blossomed in recent years, and its become something of a quaint tourist nook. It's rapidly filling with cool cafes, bars, cute shops ... and, of course, all the fresh, salty sea air you can fill your lungs with.
Basing yourself in Ahuriri for a Napier weekender means the city centre is a mere five-minute drive over the city's iconic bluff or around the waterfront, or about a 40-minute walk.
There's plenty of seafront here, though it's more rocky shore than miles of golden sands; perfect if the kids are with you and they want to rummage for starfish and limpets.
Alternatively, you could follow in the footsteps of generations of Napier kids and take them fishing off the Iron Pot Wharf. Or there's the Salty Rock climbing wall at West Quay, and a great playground at Spriggs Park. But this is a grown-ups' playground, too.
Start by basing yourself at the excellent Crown Hotel on the corner of Hardinge Rd. It's in the heart of "new" Ahuriri, while still being part of the old. The original Crown building was built post-Napier earthquake in 1932, and has been beautifully restored to reflect its art deco roots. It is now home to the hotel's heritage suites, a house bar and conference facilities. Added to that more recently is a modern, four-storey complex which houses accommodation ranging from studios to two-bedroom apartments, often with sea views.
Beneath those seaside rooms, the hotel's even newer restaurant, Milk and Honey, has fast become a favourite with the weekend brunch crowd. On a sunny Bay morning, it's a pretty pleasant spot to savour brekkie.
Ahuriri is also a great spot for antique hunters as it's home to the Whale's Tale, something of a Napier landmark. It's filled to bursting with antiques and curios and is a popular fossicking spot for collectors of artefacts in the city's famous art deco style.
For a more dramatic display of the architecture Napier is world-famous for, stroll through Ahuriri to the National Tobacco Company building.
Top up on Italian food supplies at the excellent Vitro food store - particularly useful if you're in a Crown self-catering apartment.
Alternatively, take a walk along the Ahuriri boardwalk, past Spriggs Park and the delicious barbecue smells emanating from Hot Chick takeaways (another local icon). From here, you can either head east toward the port and round the point to Marine Parade and the city centre, or head in the other direction through the newly landscaped area at the point of Ahuriri inlet, where the fishing boats enter to clamour around Iron Pot Wharf.
If you're feeling energetic, press on past the line-up of excellent bars, such as the Gin Trap and Thirsty Whale along West Quay, and over the estuary bridge - where there'll almost certainly be another school of kids fishing - and on to Westshore Beach.
Invigorating, to be sure - but perhaps it's time to head back and sample a little of the famous Hawke's Bay wine in one of those waterside bars ...
Getting there: Air New Zealand offers up to 11 flights a day between Auckland and Napier. You can organise your rental car or airport parking when booking from their website, by phone 0800 737 000, or by visiting an Air New Zealand Holidays store.
Kerri Jackson was a guest of Crown Hotel; and Air New Zealand