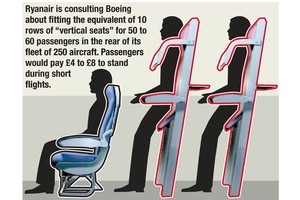 Plans for standing passengers on European air routes are unlikely to be tried by Jetstar and Air New Zealand.
A suggestion by Irish airline Ryanair that it could carry standing passengers was gimmicky, said Jetstar chief executive Bruce Buchanan.
Two-thirds of 120,000 respondents in a Ryanair poll indicated they would stand up on flights of up to one hour if flying was free.
Britain's Telegraph newspaper reported earlier this month that Ryanair boss Michael O'Leary was preparing to charge passengers £4 ($8.50) to £8 for standing on flights.
A standing area with "vertical seats" would be introduced at the back of Ryanair's fleet of 250 planes.
The Irishman said he also intended to introduce coin-operated toilets.
The Telegraph quoted a Ryanair spokesman as saying Boeing had been consulted over refitting the fleet with "vertical seats" to allow passengers to be strapped in while standing up.
"The number of seats you can put in the aircraft is already limited and Ryanair and most low-cost carriers are at the maximum number of seats you can put inside an aircraft today," said Mr Buchanan. "The benefit of putting in stand-up seats seems a little bit silly to me in that you're not going to get any more passengers on board so how do you actually pass on a saving to customers?"
The idea was more of a publicity stunt than anything, he said.
In April Ryanair said it planned to introduce a fat tax but scrapped the idea in May saying it could not be collected without disrupting its 25-minute turnaround times and online check-in processes.
Air New Zealand said it would not look at introducing stand-up seating.
"Air New Zealand prefers for our customers to be comfortable," a spokeswoman said.