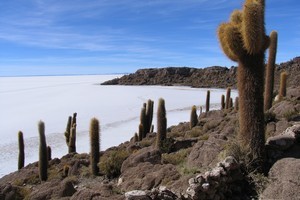 Bolivia's celebrated Luna Salada Hotel sits on a ridge overlooking the vast, gleaming white expanse of the salt flats at Uyuni in the country's south-west. A strong candidate for the world's weirdest hotels list, it is built from hefty, trimmed blocks of solid salt.
Entering the hotel feels like wandering into a deluxe snow cave, such is the unearthly gleam from salty walls and floor, a whiteness tempered only by bright splashes from multi-coloured mats and cushions.
Large white grains of salt crunch underfoot, as we make our way down the salty hallway to find a comfortable room warmed by a gas heater. Only the bathroom is partly "normal", with floor tiles for obvious water-proofing reasons, and a standard toilet, shower and hand basin.
Our bed consists of a modern mattress atop a formidable salt platform, and the bedside tables are hewn from thick blocks of salt. You can pick at the walls in places, and break off small bits. And yes, it may be frowned upon, but I did lick a tiny piece of wall for the sake of verification.
Luna Salada, with its distinctive thatched roof (laid over tin), is on the "shore" of the vast Salar de Uyuni, the biggest salt flats in the world, at an altitude of 3656m.
It spreads like a giant, white inland sea over 10,000sq km - around 25 times bigger than the famed Bonneville salt flats in the United States, used for land speed record attempts.
A whopping 215,000 blocks of salt were hacked from the flats to construct the 23-room hotel that sleeps around 50 people. Another 120,000kg of grain salt was used in the construction, along with a final 50,000kg of fine salt. Even the white material filling gaps between blocks is a mix of salt and water which dries hard.
The award-winning hotel has all the facilities of other four-star hotels, including a games room, cocktail bar, conference centre and craft shop selling local handicrafts and textiles. Next day, our tour of the salt flats takes in sights ranging from pink flamingo-dotted lagoons and shrunken mummies, to what is surely the world's only salt museum.
The tour begins with a visit to nearby Calcachi to see one of around 20 local family salt processing businesses. They harvest the salt using only picks and shovels to scrape it into piles, before loading it onto trucks. Earth-moving machines would contaminate the salt with metallic residues. It is bagged by hand as well, with Chilean iodine added before it is sold mainly on Bolivia's domestic market.
Our next stop is one of the original salt hotels built in the early 1990s in the middle of the salt flats. It was closed down because of pollution issues and now serves as a salt museum. Outside, a white mound is studded with the flags of different nations flying from poles.
The salt flats have been labelled by some as hallucinogenic, because of the distorted perceptions they produce. Expect some strange sensations out in the blinding white glare, including typical desert mirages with distant land forms seeming to float above non-existent water. The extinct volcano Tunupa appears to be quite close, but is actually 90km away.
It's easy to lose all sense of direction: after a time on the hard, marbled surface, with only distant, hazy mountains for perspective, one direction begins to look pretty much like another. People have died out on the salt flats after vehicles have broken down. "If your car breaks down please don't walk - not a good idea," says our guide Osvaldo Duran, grinning.
Bizarrely, five Israelis and six Japanese tourists died in 2008, he tells us, when two vehicles heading in opposite directions - with no other vehicles or buildings in sight - somehow collided.
We next head to the rocky, cactus-studded "island" of Incahuasi and slog up a track to the top to marvel at giant cacti which grow about 1cm a year, to heights of up to 12m. There are panoramic views over the salt flats, which formed from a series of prehistoric lakes, the last of which existed between 13,000 and 18,000 years ago.
After rolling mesmerised over endless whiteness we arrive at a sacred site on the volcano of Tunupa. The scrubby slopes grazed by llamas, are criss-crossed by ancient stone walls built by pre-Incan people.Inside a small cave guarded by a locked metal door perched against the walls are the pre-Incan mummies of Coquesa, dating back to around AD1000.
Back at Luna Salada the sun sets quickly but spectacularly over a sharp-edged horizon. It's a fitting end to an extraordinary day in a harsh and surreal landscape.
CHECKLIST
Getting there: The nearest international airport is at La Paz. Buses travel to Uyuni, which takes from 12 to 15 hours. There are also bus/overnight train connections from La Paz via Oruro four times a week.
Where to stay: The Luna Salada hotel has single rooms for US$85 ($119.50 per night), doubles US$110 ($155).
Tours: We visited the salt flats on a Bike the Andes tour with Wanaka-based Latin Link Adventure. It was one of 15 stops on a 29-day tour which also included the Inca Trail, Machu Pichu, and the notorious Death Road in Bolivia. Ph 0800 528 465 or visit latinlink.co.nz. Independent travellers are urged to price tours of the salt flats carefully, and get a written contract with a day-by-day itinerary.