An old mining town has transformed into a celebrity hotspot, writes Jacqueline Smith.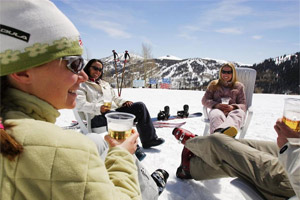 I am almost certain I skied next to Cameron Diaz. Ninety-four per cent.
Long blond hair stuck out of her helmet and a wide glossed smile flashed in the space between her neck-warmer and goggles. But on a mountain with such vast runs and sparsely scattered people, it was difficult to tail her without appearing perverted. I'm sticking to the story though because it's quite likely you will run into a celebrity in Park City.
Not many of my friends knew where I was going when, earlier this year, I switched beach-wear for snow gear to hit the slopes in the big continent. No, not Colorado. Not Vancouver. I was heading for Utah. Yes, better known for being a Mormon state, but actually boasting some of the fluffiest snow in the world.
Being a desert state means that Utah has cacti and canyons to the south, a great expanse of salt flats in the middle and talcum-powder-dry snow during winter. I was there in March, when locals wore T-shirts and I never felt warm enough to wear less than two layers of polypropylene.
Five months into their ski season roofs still held a good 30cm of snow frosting and the roads were cleared of a fresh fall every morning. If it was good enough for Cameron it was certainly good enough for me.
Like many newly trendy destinations, Park City - which for geographical reference is a 90-minute flight from a Californian airport and a half-hour shuttle ride from Salt Lake City - was once the black sheep of Utah.
It would probably be more apt to call it the dark moose of the state since I saw twice as many of these as sheep during my stay.
Park City was once a silver mining town. Goodness knows how people survived in the flimsy little colonial-style villas through winters averaging 0C, but apparently a fair amount of drinking and womanising went on, much to the disdain of the rest of the predominantly teetotal state.

These days the mining cottages are dwarfed by Wisteria Lane-style subdivisions and, further up the slopes, the winter mansions of the rich and famous.
What changed it? The demand for silver decreased around 1949, skiing became popular and someone touted Park City as the next ski mecca. In 1981 the Sundance festival moved to Park City and the lavish resort town now hosts the stars every January. The 2002 Winter Olympics, held just out of Park City, also helped put the town on the map. Now the secret is well and truly out.
From what I saw, Park City is permanently playing host. Iced with snow and strung with fairy lights, the town's main street - called Main St to make things easy - is a magical stretch of converted pioneer buildings serving fashionable food by flickering fires.
It's far from the dry vision most folk have of Utah or the burger'n'fries dining people imagine of America. Utah is still a mostly non (publicly) drinking state, but alcohol laws have relaxed in recent years. Park City now has its own whiskey distillery called High West, which is also working on a line of vodkas.
Quaint hangovers of Mormon history do remind visitors of the town's recent history; you can only buy light beer from a bar (unless you ordered an international variety) and bar-tenders cannot pour double shots. To order a double whiskey soda (a local drink of choice), for example, you order a single in a tall class with a "sidecar", and the bar tender turns a blind eye as you pour it into your drink.
If night life is what you are after, Park City's is pretty healthy.
There is a regular stream of gigs and it's all made even more novel
by a karaoke music taxi business.
By day, Park City is all sweet houses and sweet wholesome people who live on sweet, fresh air and exercise. More than half the residents are seasonal workers, and they quickly catch the friendly bug; even numb lifties who have icicles clinging to their beanies will make sure you are having a great day as you whirr up the mountain for another blast.
One of these "seasonals" is James Kingscote from Canterbury, New Zealand. He has spent six winters blowing powder down the slopes while working as a ski instructor, and his dad is so envious he has flown over to join him for five.
Swinging up the chair lift before a ski lesson we examined a map of the Canyons Resort and joked that it was bigger than five New Zealand ski fields put together. It wasn't really a joke. You can ski non-stop all day at The Canyons and still only cover half the runs.
It is so huge, that at one point I could see a moose in the distance
but no people - and that was during the busy period of the college spring break.
The Canyons, at 1500ha, is the biggest of Park City's three resorts. They all have long groomed runs winding through pine trees as well as cushiony off-piste terrain, wide views over the white county and beautiful restaurants.
The Canyons also has everything from an exclusive members-only restaurant, Alpine House, serving goblets of wine and tapas, to high-altitude restaurant The Lookout, serving award-winning tuna rolls, to rustic log cabins at the bottom of runs serving necessities like cold beer and hand warmers.
Then there's Deer Valley which maintains its exclusivity by allowing only skiers on the mountain.
Leisurely skiers can enjoy browsing the ski-in-ski-out million-dollar real estate on the mountain - you name an American movie star, news anchor or top chief executive and there's probably some rumour he or she stays there. One particularly luxurious log home smack-bang in the
middle of the ski field has its own gondola and private access run.
Deer Valley prides itself on its restaurants. They warm bellies with hearty turkey chilli soup at lunch and at night offer either seafood buffets or fireside dining.
But what I found most impressive was the thoughtful touch of providing tissue boxes at all chair lifts. Hey, even celebrities get runny noses in the cold.
Between Deer Valley and The Canyons is Park City Mountain Resort, regarded as one of the most accessible fields with a rollercoaster for those who want an extra dose of adrenalin. It's from this resort that you can ski across a bridge to Main Street, to grab a beer, whiskey or the bus home.
The whole of Park City is linked by a free bus network. Jovial drivers run regular buses between each of the resorts to the main accommodation hubs.
Each day after exploring the mountains I rode the heated bus to my lodging at Prospector Square where all the blue-lipped, red-faced but oh-so-happy skiers were met with piping hot apple cider at the Hotel Marriott.
And right across the road was one of America's best plastic surgery clinics.
What a combination: fantastic skiing, fine food, hot apple cider,
great scenery, lots of moose ... and the opportunity for a quick apres
ski facelift.
No wonder Cameron Diaz skis here. Probably.
CHECKLIST
Getting there: Air New Zealand flies daily to Los Angeles and San Francisco. There are shuttle flights from both airports to Salt Lake City.
You don't need a car as you can take a shuttle to your accommodation
and from there use Park City's free bus (or music taxi).
Where to ski: Park City Mountain Resort, The Canyons, Deer Valley.
Where to stay: Prospector Square Lodge's condos, for family-friendly independence, or Park City Marriott across the road, for impeccable service, a log fire in the lobby and hot apple cider every
afternoon.
Where to eat: Grappa, a three-storey converted pioneer building, rumoured to be haunted, serving fresh Italian cuisine.
The Whiskey Distillery.
El Chubasco, a cheap and authentic Mexican joint in Prospector Square - if you can get a table that is.
Further information: Ski Traveller can organise ski trips to Park City or pretty much anywhere in the world. Phone 0800 112 299.
Jacqueline Smith travelled to Park City courtesy of Air New Zealand, Ski Traveller and Park City Chamber of Commerce & Visitors Bureau.