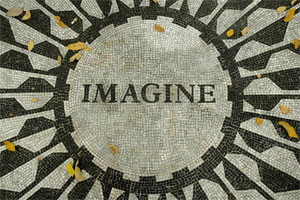 They mostly go to Strawberry Fields for one purpose: to remember John Lennon. It is a landscaped area of New York's Central Park, named after the Beatles' song Strawberry Fields Forever and situated across the way from the Dakota Building where Lennon lived for the last years of his life with Yoko Ono, and where, on 8 December 1980, Mark Chapman, a deranged fan, shot him dead.
Strawberry Fields is one of the park's most pleasant areas, a series of wooded arbours and shrubberies, and its focal point is a circular mosaic inlaid with the single word that proclaims the title of one of Lennon's best-known songs: Imagine.
It's 8am on a beautiful May morning, but already the tourists are beginning to crowd around the mosaic and more are coming into the park; I am watching them with one eye, yet one eye only, because from where I am standing, a hundred yards away, I can see something that excites me even more than the memorial to the dead Beatle, moving though that is.
It is a bird. It is a plump, chunky bird, high in a tree, and its colours are stunning: it has a black head and back, white wingbars and white underparts and a breast of an exquisite red, which is a sort of fiery crimson.
It is a rose-breasted grosbeak, and it is calling in on Central Park to rest and refuel on its spring migration from its wintering grounds in the Caribbean to America's northern forests, where it will breed.
I have to say, I am watching it with both eyes now, glued to my binoculars, it is such an exquisite creature, and I have forgotten John Lennon and all his works. I am not alone. There are about 30 of us watching it, some uttering gasps of admiration, as it turns this way and that and the strong early sunlight catches that glowing red breast and the contrasting pure white belly which we can see so clearly from below.
We are on a morning birdwatch in the park with the Audubon Society of New York City, the Big Apple branch of the nationwide American birding club named after John James Audubon, the long-haired Franco-American frontiersman-artist whose wonderful set of 435 dramatic, coloured engravings entitled The Birds of America, issued between 1827 and 1838, is regarded as the best bird book ever published. (It is certainly the most expensive; the last one to be sold at auction fetched $8m, which made it the world's most expensive printed book).
The Audubon Society is America's equivalent of the RSPB, but it is a bit of a complicated beast, because there is a National Audubon Society and also local Audubon Societies which are semi-independent; the NYC Audubon is one of the latter. And this being the US, where birding seems to be a much more middle-class activity than it is in the UK, and being in Manhattan, where financial services reign supreme, our morning tour is being led by an investment banker.
His name is Jared Keyes, and he is a managing director of Brown Brothers Harriman, one of America's oldest banks. He has a banker's suit on and carries a satchel full of documents on his shoulder, but he also has a pair of binoculars strung around his neck, and it is clear, as he strides in the lead through the Central Park glades and shrubberies, that he knows as much about birds as he knows about financial derivatives.
I had gone to the US on a birding trip (combined with work) with the principal aim of feasting my eyes on America's wonderful pageant of spring migrants, the birds that winter in the neo-tropics of the Caribbean and Central America before heading back to breed in the forests of the northern US and Canada.
Foremost among them are the North American warblers, more than 50 species of small but quite brilliantly coloured songbirds, whose plumage combinations are a dazzling feast for the eyes. And we have not been in Central Park for more than 10 minutes when Jared spots one of them, a black-and-white warbler, which is a charming creature in zebra stripes with a habit of running straight up and down branches.
A couple of minutes later somebody spots something even tastier, as it were, in the branches of a conifer. It is a magnolia warbler, a bird whose colours are so striking as to be improbable: it has a grey crown, a white eyebrow, a black eyepatch and a black back, white wing patches and a bright sulphur-yellow breast and belly which itself is streaked with bold black stripes. "Ooh" we go, "aah" we go, as we watch it scurry through the branches feeding, not 15 yards away.
And then there is something even tastier still, a few trees along, a bird which is black with bright orange wing and tail patches, which I have longed to see but never glimpsed before. It is an American redstart, which despite its name is no relation to our redstart (a thrush relative) but is one of the warblers, and it is flitting around the white blossoms of a black locust tree like a giant fat butterfly. I feel my birding cup is overflowing.
And all this is happening about 150 yards from the junction of 72nd St and Central Park West, in the heart of Manhattan. The birdlife of London's parks is pleasing, but it's as nothing compared with what you can see in Central Park, this green glade in a forest of skyscrapers, in whose 843 acres more than 200 species have been recorded, making it one of America's best birding sites. And you thought all there was to see in New York was the Empire State Building and the Statue of Liberty.
Spring is the best time, of course, when the migrants are passing through - they clearly spot the great verdant oasis the park represents and drop down to refuel on their way to the forests of the north, although some of them stay on to breed. So if you want to add some birding to your US trip, time it for the six weeks from mid-April to the start of June, when the spring migration occurs. If you can't make that, try again in September, when most of the migrants are on their way back south.
But there are other fascinating species (to a Brit) that are residents, which we catch sight of in the half hour before I have to leave, including a pair of cardinals, the male a brilliant scarlet, fighting off a catbird getting too close to their nest, blue jays, and by the park pond, next to a couple of turtles basking on a rock, a black-crowned night heron.
I had gone to New York from my other, perhaps unlikely, American birding destination: Washington DC. People often say that this city or that city is one of the world's best-kept secrets; I felt a little like that about America's capital, in a certain respect, because all the attention is, of course, focused on the White House, the President and the Federal Government, but if you're an outsider you don't often hear what a pleasant place it can be to live in and visit (as long as you're not poor, obviously).
It is a very green city. A well-known book in the US is entitled Washington: City of Trees and, indeed, the trees are magnificent, whether downtown - where I stayed in the W hotel, which had a roof terrace with a sensational view over the White House and the Washington Monument - or in the north-western suburbs such as Cleveland Park, where I stayed with my friends Polly and Allan. These suburbs take leafiness to an extreme and are bird-saturated, with cardinals and mockingbirds bouncing around everywhere and American robins hopping over every lawn.
My real birding destination, however, was Rock Creek Park, which does for DC what Central Park does for New York. But whereas Central Park is a 19th-century human construction, based on Birkenhead Park (bet you didn't know that), Rock Creek is entirely natural, an astonishing remnant of nearly 2,000 acres of forest along the course of a cascading stream to the north of the city centre.
Rock Creek has a devoted band of birders who, in the warbler season, gather in the park every morning at dawn to watch the rays of the sun catch the tops of the trees. This seems to set off insect activity which can be followed by a warbler feeding frenzy and, on really good days, as many as 20 species can be seen in a morning. On the mornings when I joined them I saw magnolia warbler, Canada warbler, chestnut-sided warbler, northern parula, black and white warbler, yellow rumped warbler and ovenbird.
I also had spectacular views of a barred owl sitting imperturbably in a tree a few yards away, and the highlight of all, two of the most colourful birds in all this colourful company, a scarlet tanager (scarlet and black) and a Baltimore oriole (orange and black), sitting in adjacent tree branches.
Unless you are a dedicated birdwatcher who takes regular birding trips (which I am not), the birds of America will not have impinged on your consciousness. But once you become aware of them, they will add enormously to any US trip, if you remember your binoculars and buy one of the many excellent bird guides.
It may seem an irritant to some that America's avifauna is so much bigger than our own, just as everything American, from sandwiches to cars, seems to be that bit bigger, but these birds are a wonderful sight and balm for the mind without any of the downsides of the mountainous hamburgers or the gas-guzzlers; I urge you to enjoy them if you can.
- INDEPENDENT