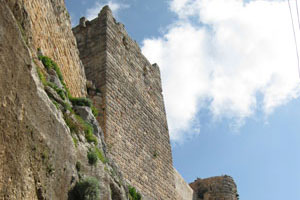 Mr Bitar was pressing a jar of local honey into my hands.
"I knew it would be you when I saw a Kiwi group had booked in to my hotel," he said.
"The tour companies always want groups to stay in the big hotels in Lattakia, not in my small hotel in the mountains so I was sure this booking was you. The honey is the best from this area. Give it to your family".
There was no way I was going to tell him that I wasn't allowed to take the honey home. I took it anyway - my friends in Jordan would love it.
Mr Bitar is a man with an intriguing pedigree. He is probably the first man to be born in an ex-Crusader castle since the time Islamic conqueror Salah-ad-Din drove out the invaders in 1188.
His home was Qala'at Salah ad-Din, or as it was known to the Western knights of the time Saone. It perches on a forested promontory just inland from Lattakia in northern Syria and figuratively stands slightly in the shadow of its southern neighbour, the legendary castle of Krak des Chevaliers.
But there's something special about the atmosphere at Saladin's castle - the setting is wilder, fewer tourists visit and somehow it's easier to play castles here in its more intimate towers and keeps. Not to mention the fact that T. E. Lawrence (Lawrence of Arabia) described it as "the most sensational thing in castle building I have seen".
There's Mr Bitar too of course. I first met him two years ago when he guided me around the castle and his former home on a bitterly cold winter's day, showing me the sheer drops into wooded ravines that ensured his mother could never take her eye off him when he was a youngster.
Mr Bitar now lives off site and has opened a small hotel with many rooms overlooking the castle.
It's a modest place - there's erratic plumbing in some rooms, dodgy wiring in others. But as I tell group members fruitlessly looking for a beside lamp or a functioning TV remote, most five-star hotels don't have owner-managers that personally open up their castles for you.
Nor do many caretakers phone up the man who operates the tea-shop in the romantically named Maiden's Tower to come to work on his day off to serve tea sweetened with the local honey just for the Kiwis.
The fact I have a comfortable bed and a mostly functioning en suite bathroom is also a sharp contrast to life nearly 900 years ago in the castle.
While nobility might have slept in relative luxury in tower rooms lined with tapestries and carpeted with rugs, the average Crusader soldier would more likely have huddled in a freezing stone barracks with an evil-smelling long-drop toilet.
The oldest parts of the castle date back to the 10th century Byzantines but most of the fortifications are from the Crusader era. The castle walls enclose a 5ha site, making Saone twice the size of Krak.
But what makes this place truly remarkable is the way the Byzantines, and then the Crusader armies, dug out solid rock to leave the castle marooned on a spur. They created a ravine 156m long, 28 metres deep and 15 metres wide, all using the most basic of tools. Left in the middle of the ravine was a soaring pinnacle of rock on which the drawbridge was balanced.
After Salah-ad Din captured the castle after just a two-day siege, a mosque and hamam (bathhouse)were added - yet another layer of history created on a site that was once fortified by the Phoenicians who were in occupation when Alexander the Great passed by.
Peering out the door way of the tower keep into this abyss and across to the rock pinnacle is not for those with vertigo, but neither is the walk around the tower's crenulations.
Mr Bitar once made me clamber up beside him, which I did, trustingly and not realising that we would then be standing above the sheer drop into the painstakingly hewn gully.
But what makes Saone so much fun is that it is slightly dangerous. There are no railings, no warning signs, no guards blowing whistles. It's Girl's Own adventure territory.
The shadows lie dark in the cisterns that were once filled with water for the knights and their horses and in the central keep stone cannon-balls are strewn in heaps among drifts of scarlet poppies.