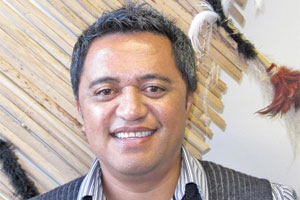 Do you travel light or heavy?
Light and empty for shopping.
Cattle or first class?
Cattle but when I have enough points I will upgrade.
I can't travel without...
Small fold-out frame of photos of people who protect me.
What type of suitcase do you carry?
Black soft-top on wheels with a sturdy handle.
What's always in your hand luggage?
The latest Mana, Spasifik or Tu Mai magazine, they make great gifts and reading.
Are you a planner or last-minute packer?
A planner for international travel, last minute for national.
Favourite or most exciting airport to land in?
Iguazu, Argentina; spectacular views of the Iguazu falls and the surrounding jungle.
Best packing tip?
Lightweight clothes for four seasons and a good time.
Most memorable trip?
12 days in Pago Pago, American Samoa managing 120 artists.
Mikki-tae Tapara is the Producer of Matariki Festival 2010 which has more than 50 events across the Auckland region from June 14 to July 14
* Visit matarikifestival.org.nz.