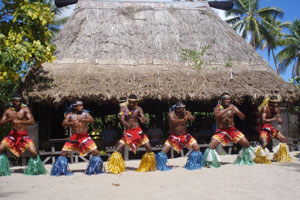 Going to Fiji but want the real experience instead of another tourist trap?
There is a place where you'll find the authentic Fiji experience, the real deal with fearsome island warriors and beautiful Melanesian women, delicious Fijian food and ancient island rituals - Robinson Crusoe Island.
Only another 14 guests were on the island when we were there, which served to enhance the experience. A five-minute walk from the tiny beachfront resort and you have your own private beach.
You could play out your very own version of Castaway right there on that little slice of paradise.
Robinson Crusoe Island is just a short boat trip from the main island, through a lush green mangrove-sandwiched river and a beautiful lagoon crossing. A one-hour coach ride from Nadi will get you to the jetty for this.
Our arrival at Robinson Crusoe Island was unforgettable. Half a dozen Fijians dressed in what looked like Polynesian war dress stood on the beach as our little boat putt-putted into the bay.
A guitar struck up and there was an eruption of singing, clapping and warm, genuine smiles.
As the boat hit the sand we were greeted with a hearty "Bula!", which means "hello" and pretty much anything else you want it to mean. We were encouraged to respond in the same manner. The warmth and friendliness of the Robinson Crusoe islanders cannot be exaggerated.
This was the real Fijian experience just like the brochure said it would be.
The accommodation is basic but sufficient. Water on the island is precious so must be conserved. To that end, bucket showers are provided which are great fun - if only for novelty value.
Electricity is provided by a generator and this only runs from about 7am until midnight. Once the power was off for the night, the islanders would light a massive fire and play guitar and talk and laugh with us well into the small hours. It was at these moments that I would have happily thrown my entire life away just to spend the rest of my days there on that beach.
The food at Robinson Crusoe was exceptional. We have hangi, Fijians have lovo. Beef, chicken and pork with potatoes and carrots were roasted underground for hours and served to us just as the sun went down in paradise. Bliss.
For some added spice a few of the Fijians walked over the hot coals - they offered everyone a shot but surprisingly there were no takers.
Our first evening was fantastic if a little hazy. It was our kava ceremony. Kava is the national drink of Fiji and, not surprisingly, it gets you a bit squiffy if you drink enough.
It's non-alcoholic and made from the root of a pepper plant. The grayish-brown powder is mixed in water in a bowl known as a bilo and a strict ritual is performed before each member of the party is invited to drink from it.
Once the formalities are out the way, everyone is free to relax and drink a small bucketful of the muddy-looking concoction.
It's a strange sensation getting "drunk" on kava. Your mouth and throat go numb first, then your whole head. By your sixth bilo you're the most chilled you've been since that long weekend in Amsterdam.
The activities on offer at the island - most of them free - were fantastic. Twice a day the islanders would take a boatload of us out to the coral reef to snorkel and there were kayaks to use free of charge. There were also fishing and scuba diving trips available at reasonable rates.
Beautiful Fijian women were also on hand to give relaxing massages and offered the first 15 minutes free, although I declined - my better half gave me a look that suggested had I accepted, it would be our last holiday as husband and wife.
Not only is Robinson Crusoe Island one of the most unique holidays you're likely to have, it's also very affordable at just FJD263 ($192) for a two-night stay including meals.
It is a little piece of paradise that even the most frugal of holidayers can afford.
For more information visit robinsoncrusoeislandfiji.com.
John Durrant was a guest of Robinson Crusoe Island Fiji.