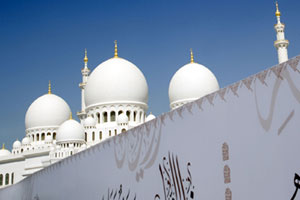 We are planning to visit our daughter who is living in Abu Dhabi. What can we do there while she is working Sunday to Thursday?
-Joan Duthie
Lonely Planet author and Middle East-resident Jenny Walker writes:
Few people spend time exploring the UAE's wealthy, confident, capital city, choosing instead to head for Dubai (two hours away by taxi). But slowly and surely, Abu Dhabi is stealing a march on its Gulf rivals, quietly building structures that may not be the region's tallest, but are likely to be as, if not more, enduring.
Abu Dhabi is founding a reputation as the cultural heart of Arabia. This city has persuaded the Louvre and the Guggenheim to the Peninsula, while building a maritime museum, a national museum and a performing arts centre. The excellent Saadiyat Island Cultural District Exhibition, in the Emirates Palace hotel, offers a chance to see these visionary projects in miniature. There's nothing miniature about the exhibition space, mind. What the Burj Khalifa in Dubai is to the vertical, the Emirates Palace is to the horizontal, with audacious domed gatehouses and flying ramps to the foyer.
This is the BIG hotel in the Gulf with 1002 crystal chandeliers and 400 luxury rooms and suites.
And while on the subject of big, each Gulf country has a Grand Mosque, but, accommodating 40,000 people under 80 domes resting on 1000 pillars, the Sheikh Zayed bin Sultan al-Nahyan Mosque in Abu Dhabi is a mosque-and-a-half. Oman was proud of its Grand Mosque carpet until Abu Dhabi commissioned its own: it took 2000 Iranian carpet-makers two years to create.
If the mosque is Gulf rivalry at its most exquisite, then Yas Island is Gulf rivalry at its most raw. Poor Bahrain. They thought they'd cornered the market on the Grand Prix circuit but then came the 5.5km Yas Marina Circuit. The track runs through the middle of Yas Hotel. Beat that.
But Abu Dhabi hasn't sold its soul - as is evident from a tour of the Abu Dhabi Falcon Hospital. Cheer on a favourite camel at the Al-Wathba Race Track; watch weavers at the Women's Handicraft Centre, Cultural Foundation or Heritage Village; haggle at a city souq and it's easy to see that Bedouin origins lurk close to the surface.
When the sun glancing off the city's extravagant towers begins to grate, then day-use of the big beach hotels (Hiltonia, Inter-Continental and Beach Rotana) offers luxury respite. Better still, escape to the magnificent solitude of the desert, ever nipping at the fringes of the city. Any tour company will happily arrange a day trip.
In May we will fly into Frankfurt and fly out from Prague. What are the sights to see if we travel to Frankfurt, Munich, Salzburg then through Austria to Budapest back to Vienna and on to Prague? Is it possible to travel by boat from Budapest to Vienna stopping at towns on the way. We will travel light and hopefully use public transport and stay at cheaper hotel. Have you any other suggestions for us? We are in our early 60s.
-Avril Tantrum
Lonely Planet's European Travel Editor Tom Hall replies:
You're covering a lot of ground here, so working out an exhaustive itinerary would be, well, exhausting. It's also hard to plot a travel plan without knowing what gets you excited. There's no end of medieval art to view on this route, but if you like pubs or the great outdoors that's not much use. The route you've picked is a bit of a boomerang, meandering south and east through southern Germany and Austria, then to Hungary before bouncing north-west to Prague.
Happily, Europe's rail network is obliging, and you'll find the Budapest to Prague night train to be enjoyable, and good value, way to end your trip. You should be able to book when you arrive, or try Rail Plus for bookings and the Global Inter Rail Pass which will be useful if you're planning lots of stops. But if you're only stopping in the cities you mention then point-to-point rail fares will be as good value, if not better, than a pass.
Frankfurt to Munich offers the tantalising opportunity to see plenty of two of Europe's mightiest rivers. Head in the first instance from Frankfurt to Cologne and then amble south down the romantic Rhine.
This is one river which is worth a few pauses along the way, taking small ferries between villages. Get your river travel fix in now as once you've headed east to Munich you have fewer opportunities. Munich to Salzburg to Vienna is a logical rail route. One alternative would be to pass on Salzburg and instead hop from Munich to meet the Danube at lovely Regensburg.
You can cross into Austria and take a boat between Passau, Linz and Melk in the upper Danube valley, then take a tour boat trip or hop on the rails to Vienna.
The Danube should also be the focal point for your wanderings on to Vienna and Budapest. There is a hydrofoil which runs though these two capitals but it only stops in Bratislava, in Slovakia. Don't despair though, the Danube bend, the scenic stretch of river north of Budapest, can be visited on day trips. Book ahead if you do want to take the hydrofoil at mahartpassnave.hu.
My husband and I will be in Canada June-July this year. After visiting Montreal, Ottawa and Quebec, we will finish up in Toronto, where we have a week to fill in before returning home. The logical choice was to hire a car but I was wondering if travelling around the district by train would be worthwhile. This way we could both see the countryside without one of us having to concentrate on driving.
-Marlene Marsden
Lonely Planet's American Travel Editor Robert Reid writes:
Train is a great idea, particularly for that compact region in eastern Canada. VIA's 10-day CorridorPass, for C$337 ($451) connects Quebec City and Montreal with Ottawa and Toronto - all pedestrian-friendly cities - and takes in some nice views, particularly along the St Lawrence River between Quebec City and Montreal.
Depending on how much time you're planning to stay in Montreal, Quebec City and Ottawa, you could visit those places in 10 days by train, and wrap up the pass as you arrive into Toronto for a week train-free. If you have a couple days left though, consider a detour south from Toronto to see the spectacle of the Niagara Falls from their most majestic side (Ontario's, not New York's).
Win a Lonely Planet guide book
Get the information you need to make your big trip a success. Email your travel questions to travel.info@lonelyplanet.com and they'll be answered by Lonely Planet's experts.
In addition the best question each week will earn a Lonely Planet guide book.
To give yourself a chance to win add your postal address and the guide book you'd like to receive. You can find out about Lonely Planet books at LonelyPlanet.com. Not all questions are necessarily answered and Lonely Planet cannot correspond directly with readers, or give advice outside the column.