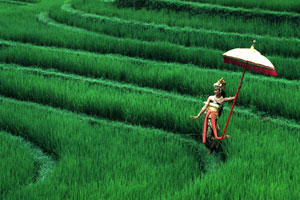 I have very fond memories of travelling through Java by local train. People piled on with their children and chickens. The grandmother beside me was so embarrassed at her grandchildren prodding my white skin in amusement that she gave me her entire lunch by pushing it into my hand: delicious sweet sticky coconut rice in a parcel of banana leaf. She insisted I take it, despite my embarrassed protestation. We didn't need words to converse, I thought how gorgeous she was to give up a meal, and I felt embarrassed yet honoured as I ate her gift. We whizzed past the rubbish piled high on each side of the train, where people threw their garbage. Her grandchildren slept with their heads on the rusty chicken cage. Occasionally we caught glimpses of rice paddies under the smoggy red sunset.
Tracey Leggett
That story has been selected by Singapore Airlines general manager Looi Tein Po as the winner of our competition to win a trip for two to experience the magic of Asia. As a result, Tracey Leggett will enjoy a prize package worth up to $5000 of return economy air tickets for two flying Singapore Airlines to Singapore and then beyond to any of the 55 destinations throughout Asia served by Singapore Airline and its regional airline SilkAir.
The prize includes a two-night stay in Singapore, with accommodation and free entry to many top attractions, plus shopping, dining and sightseeing discounts.
Thanks to all who entered the competition. Some of the other finalists, out of the more than 2500 entries, were:
Star Bambi not welcome
We were in France for the 2007 Rugby World Cup in our 1979 Bedford Rascal Bambi Campervan when we decided to stop in at Monaco to visit the Monte Carlo Casino. We drove right to the casino and proceeded to park between a Ferrari and a Lamboghini. Then we noticed that all the other cars in the carpark were worth at least $200,000. We all piled out and before long Bambi had become the star attraction, with tourists snapping pictures left, right and centre. Soon enough the police turned up, confiscated our cameras, and those of the other tourists who were snapping pictures, and then proceeded to kick us out of Monaco. We were escorted back to France and never got to place a wager at Monte Carlo Casino.
Vijay Patel
Procession of colour
My magical experience was in Simla, India. One day I was walking around a village when I saw a large temple. There was lots of noise and colour; women in colourful shawls with rings in their noses and long plaits down their backs; drums beating, cymbals clashing and lots of incense. Soon there was a procession of adults and children following the temple priests towards the forest. It was joyful and exciting and I followed them through the pastures and back to the village. It was so much fun to be part of, even though I was the only foreigner. I also remember the smells, the women, so beautifully dressed even though they had little, and the children running around barefoot with mischievous grins.
Anna Claridge
Better than Pavarotti
Once on a trip to Lisbon we came across a guitarist playing alone one evening. A crowd had gathered and, as he played, someone would step forward and sing a verse, then the whole crowd would sing the chorus. It was amazing to watch. A man then arrived carrying a black plastic rubbish bag that might have been his laundry; it seemed he had just finished work. He stopped and started to sing and he had the most magnificent voice I have ever heard. He sang like a bird, to me better than Pavarotti, song after song, and the crowd got larger. Finally he nodded, picked up his plastic bag and walked off down the street. The evening was free but never forgotten.
Peter McBride
Crazy Aussie thing
Driving into Coober Pedy, Australia's opal capital, I wondered what we'd gotten ourselves into. There was nothing around, except the locals meandering in the streets, and no buildings. I knew the motel we were staying at was underground, a new experience, but I hadn't realised everything was underground. Arriving at our motel and plunging toward our room the temperature dropped dramatically and the wooden walls soon became clay. Once in our room, we puzzled at open umbrellas hanging from the ceiling over our beds and concluded it must be a crazy Aussie thing. Waking late the next morning (because the sun doesn't rise underground) we noticed bits of clay from the roof had dropped everywhere but thankfully none dropped on us in bed as the umbrellas caught it all.
Suzanne Thomson
Street party in mass
After the disappointment of not being able to go to Rio for Carnival my friends and I sat solemnly for dinner in a restaurant in Sao Paulo. A sudden stir of singing, drums and whistles outside got us in a flurry - we literally threw our cash at the waiter - to join a street party in mass, Carnival Sao Paulo style. We joined in, drowning in the ecstasy of the colours, music and rhythm. Adorned with feathers and beads, gifted by the beautifully joyous people around us, we sang and danced with the procession. A sudden downpour only intensified the atmosphere, excitement with uninhibited and open-hearted joy. So there we were, soaked in sweat and rain, hearts pounding and heads soaring.
Monica Lal
Cheap glasses bring joy
Near Chengdu in China's Jiuzhaigou Valley, surrounded by a forest on fire with autumn colours, I ventured upon an elderly man who sat outside his house on an old wooden seat, mending garments with a needle and thread. With great difficulty he peered through glasses that contained only one scratched lens, held in place by sticky tape. Because my eyesight is also poor, I travel with a spare pair - the cheap kind you can afford to lose and on this occasion, give away. Happily, they fitted him perfectly. The real joy however, was on his face. Slowly and with some effort, he rose to his feet and smiled because the world was no longer a blur, but a glorious blaze of red maple and golden beech. He wandered amidst the branches that swayed in the breeze, chanting to himself: "I can see! I can see!"
Richard Loseby
Lanterns light the sky
Magic for me is Thailand and the experience that sums this up is a beach restaurant. The kids are at the beach making castles, the Tiger beer is ice cold, which is good as the pad thai and prawns has a spicy bite, the waves are crashing on to the beach and you can feel the sand between your toes. The owner tells us a lantern festival will be on that night. The sunset drifts into the sea and darkness approaches quickly. Thirty minutes later 500 lanterns fill the sky. One for the road, we say before we make the short trek to our room.
James Hamilton