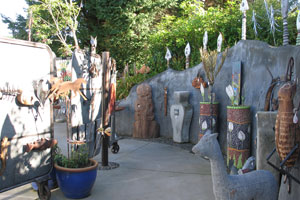 How do you let people know about the good food and art awaiting their pleasure when your art cafe is down a drive off a country road? Place an arresting sculpture at the entrance on the roadside and see what happens.
Artist Judi Brennan, her daughter Jo and partner Andrew Blewett didn't have to wait long before traffic on Lake Taupo's Mapara Rd began turning into number 255, lured by the sun-reflecting metal sculptures of nikau trees at the entrance - and the sign with the playful name of L'Arte.
Since opening four years ago, L'Arte has established itself as a vibrant destination on the byway that runs between Taupo's Acacia Bay and Kinloch. Appetising, home-made food presided over by Jo is served among the art. Judi's eye-catching mosaic seats are the prelude to a garden of sculptures by artists from around the country. In the cafe customers swivel between the food counter and displays of jewellery, paintings and other art works.
L'Arte was spawned when Judi decided to relocate her studio to Taupo's historic village. She, Jo and Andrew then combined creative forces to convert the Mapara Rd property into the cafe Jo had dreamed of owning since childhood. Et voila! We have a lively establishment where even the bathrooms are works of art.
The wine licence is another reason to linger in this beautiful spot near the shores of Lake Taupo. My unwooded chardonnay went down rather well with L'Arte's eggs benedict, which was served with a potato cake and wasabi hollandaise to spike the salmon.
IF YOU GO
Getting there: Air New Zealand flies daily to Taupo from most major New Zealand centres. Alternatively, it's just under a 4 hour drive from Auckland.
What to see: The L'Arte Cafe is located at 255 Mapara Road, a 15 minute (approx) drive from Taupo along Acacia Bay Road.