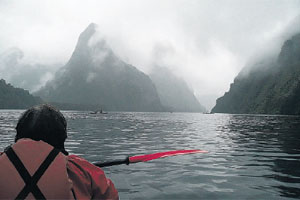 It must be a Portuguese thing. Intrepid explorers such as Vasco de Gama and Ferdinand Magellan never made it into Fiordland's Doubtful Sound, but five centuries later I'm helping three Lisbon aeronautical engineers investigate the coves, cascades and silky waters of New Zealand's deepest fiord.
For the first five hours of our sea kayaking expedition they've been content to play follow the leader, but now seem keen on discovering a Great Southern Land around every misty corner. And with a chorus of southern birdsong and the occasional passing raft of yellow-eyed penguins, I'm perfectly happy to keep paddling away in support.
Technically, Doubtful Sound and Milford Sound are both fiords - narrow inlets with steep sides carved by glacial activity - but that's where any similarity ends.
The almost-sheer granite cliffs of Milford Sound feel rugged and imposing, but Doubtful Sound is longer, deeper, and gentler. The walls are shrouded with more vegetation and escalate upwards more slowly.
Negotiating a series of mossy curtains along the banks, I feel like I'm cocooned by nature.
Captain Cook never ventured into this narrow waterway stretching almost 41km from the wild Tasman Sea to Deep Cove. Visiting in 1770, he was "doubtful" his fleet would be able to negotiate back to the open sea in the fiord's fickle shifting breezes.
Only in 1793 did Spanish scientists explore the area. Their brief was to investigate the force of Southern Hemisphere gravity using a pendulum, and their legacy remains in the only Spanish place names still on a contemporary map of New Zealand.
Our all-day expedition doesn't venture as far as Pendulo Reach or Febrero Point, and our first view of Doubtful Sound is through the mist on a clearing on the Wilmot Pass. Built to facilitate construction of the Manapouri Power Station, the unsealed road linking Lake Manapouri and Doubtful Sound descends rapidly from 670m to sea level at Deep Cove.
Just 90 minutes after leaving Manapouri township in morning sunshine, Deep Cove is shrouded in misty, moody squalls. Fiordland's reputation as the wettest place in New Zealand is safe with us.
But rain and mist doesn't equate to disappointment. Our guide Toby leads our small group of double kayaks through a landscape gently draped in green. Unlike negotiating Milford Sound's busy flotilla of tourist boats, our tiny craft are all alone on Doubtful Sound.
After refuelling on soup, hot chocolate and biscuits under Commander Peak, we continue into Hall Arm. Adorned with a necklace of waterfalls, the spacious natural harbour provides the opportunity for some end-of-day self-exploration.
My Portuguese paddling mates set a course for a shapeshifting waterfall on the near horizon, and just before I dig my paddle purposely into the obsidian-coloured water, I catch a glimpse up Hall Arm to Mt Danae.
The centuries roll back, and I realise one of New Zealand's most iconic views has been unchanged for millennia.
CHECKLIST
Kayaking on Doubtful Sound: From late September to early May, Manapouri-based Adventure Kayak & Cruise operate full-day sea kayaking excursions. The cost is $225 per person, and paddlers must be at least 14 years of age. Two-day excursions including an overnight lakeside camp are also available at $365 per person from November to March. Phone 0800 324 966 or see fiordlandadventure.co.nz.
Further information: See Destination Fiordland's website for info on transport and accommodation in Manapouri.