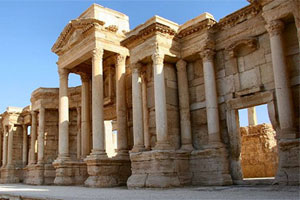 My friends gave very clear instructions: "Take a yellow taxi to Bab Sharqi - it won't cost you any more than two hundred Syrian pounds ($5) - and then lose yourself in history."
I do as my friends suggest, and enter the old city in the east at Bab Sharqi, the Roman Gate of the Sun. The remains of a double colonnade that in Roman times lined both sides of the street can still be seen.
I am on a street called Straight in the Syrian capital Damascus, which claims to be the oldest continuously inhabited city in the world. Hieroglyphic tablets found in Egypt indicate it may have existed as far back as the 15th century BC.
It is on this street, according to the New Testament Acts of the Apostles, that St Paul was christened into the Christian faith.
Today, the street is being dug up and a new road and footpath are being put down. There is rubble and dust everywhere, and the tourist shops which line either side are doing a slow trade.
If you walk the street's full 1500m length, you will exit the old city in the west at Bab al-Jabiya. This is where the Roman Temple of Jupiter once stood. The theatre built by Herod in the 1st century BC is also thought to have been in this area.
As I wander, I am half-heartedly looking for souvenirs to take home, but I find myself paying more attention to street life.
Men sit on the side of the street talking and smoking their shisha pipes and drinking endless cups of tea. Women do not appear to have the time for such pursuits, at least not in public.
Female attire ranges from the same smart clothes worn on the Champs Elysee to the ultra conservative hijabs which completely cover the face, eyes included. Most stunning are the very trendy loose and liberal designer hijabs.
Ninety per cent of Syrians are Muslim, but this is a secular (and religiously tolerant) state, and 10 per cent of Syria's 18 million people are Christian.
About a kilometre up Straight Street I take a right turn and head towards the Hamidiyeh souk, the longest bazaar street (500m) in the Syrian capital. Built on the site of a Roman fortress, the souk has been rebuilt several times, most recently in the 13th century.
To enter the Hamidiyeh Souk is to be sucked into another world. Yes, you can shop here, but first, enjoy the theatre.
The souk is covered, a welcome refuge from heat. Bullet holes pepper its arched metal roof, the result of French airplanes suppressing an anti-colonial uprising in the 1920s. The light that pierces through makes lovely patterns on the pavement.
Locals shop here for daily provisions, and tourists come searching for shisha pipes, jewellery (especially gold), carpets and inlaid mosaic boxes.
As I exit the souk into daylight, a giant Roman archway looms out of nowhere.
A little further ahead is the Umayyad mosque, one of the largest, oldest and holiest mosques in Islam. Inside the mosque an elaborate tomb is believed by many to contain the head of John the Baptist. The minaret in the southeast corner is known as the Minaret of Jesus. It is here, many Muslims believe, that Christ will appear at the end of the world.
Walking is easy in Damascus. You should allow at least one full day - more is much more sensible - for exploring the Old City (it is 5km in circumference). Here the pace is relaxed, people appear unhurried, and there is always much to look at.
Outside Damascus, my three favourite Syrian sites are Krak des Chevaliers (French for "Fortress of Knights"), Palmyra and Saint Simeon.
Krak, which lies 220km north of Damascus, has been described by author Paul Theroux as "the epitome of the dream castle of childhood fantasies". It is here that The Round Table, as in Knights of the Round Table, is to be found.
Built between 1142 and 1271, it is the world's best preserved Crusader Castle. Today it looks the same as it would have 800 years ago.
The castle's exterior wall is 5m thick and has 13 towers. Edward I of England, visiting while on the ninth crusade in 1272, was so impressed with Krak that he used it as a model for his own castles.
Even more fascinating is Palmyra, 215km north east of Damascus, and 120km southwest of the Euphrates, lying on the edge of a desert oasis in the heart of the Syrian desert.
The oasis, fed by plentiful subterranean springs, allowed Palmyra, from the second century BC, to become a strategic Silk Road refuelling station. It reached its peak following the Roman conquest of Syria in the third century AD.
The site, covering 50ha, contains one of the world's most complete classical cities. At the pinnacle of its economic power in the third century, 200,000 people lived here.
I visited Palmyra on three separate occasions over a 24-hour period and the best visit was at dawn. There were no tour parties, nothing to disturb me except the dust of history and a few touts and their camels.
If you can't make it to Palmyra, a trip to Apamea, not far from Krak des Chevaliers, is a great alternative. Its grand colonnade has more than 400 columns. At its peak, this third century AD Roman city had a population of 500,000 - 380,000 of whom are believed to have been slaves - and the city was also home to 40,000 horses and 500 fighting elephants.
Then there is Saint Simeon, 60km northwest of Syria's second city Aleppo (itself 355km north of Damascus), which is a little jewel.
Simeon (390-459) was an ascetic saint who achieved celebrity status by living for 37 years on a small platform on top of a 15m-high pillar.
Following his death, the Emperor ordered that a cathedral be built on the spot where St Simeon prayed. The remains of his pillar sit in the centre of the now largely ruined - but magnificent - cathedral complex.
Syria is not on good terms with the United States, regarded as undemocratic and a supporter of terrorism, and as a consequence, there are not large numbers of American tourists there. The great majority of visitors come from Arab countries though while I was there in May, French and British tourists predominated.
The presence of the state, or at least the President, is everywhere. In the large cities, it is not possible to go a block without seeing at least one and often two or three large billboards of either President Assad or his late father, the former President Assad.
To an outsider, the mood of the country seems relaxed. There is virtually no violent crime and no stealing. One New Zealander living in Damascus told me that Syria was "one of the few places I have been where I have no difficulty putting my passport, wallet and credit cards into the small pack on my back."
CHECKLIST
When to go: Summer can be very hot, getting close to 50C inland, and reaching high 30s in Damascus and Aleppo. In winter it can snow. The best time to go is spring (April and May) and autumn (September and October).
Getting there: New Zealand citizens need a visa, obtainable from the Syrian Embassy in Canberra (email: info@syrianembassy.org.au). Visas will not be issued to anyone with an Israeli stamp in their passport. There are no direct flights from New Zealand to Damascus. Travel via the Gulf is common.
Health issues: Syria is not a disease-ridden country. You need a Yellow Fever vaccine if travelling from an infected area. Malaria is a risk from May to October on the northern border. It is sensible to carry pills for diarrhoea. Ercefuryl, which you can buy over the counter at Syrian pharmacies, works wonders. Take a hat and plenty of sunscreen.
Getting around: Syria is an easy country to get around. Driving is on the right-hand side, roads are sealed and well maintained, and signs are written in Arabic and English. Long-distance intercity luxury buses are efficient and inexpensive. Rental cars are easy to hire (but note, they do not come with a full tank - if you hire a car your first task will be to find a petrol station). There is a passenger train between Damascus and Aleppo and Syrian Airlines flies from Damascus to Aleppo, Lattakia and Deir-Ez-Zour
Tour companies: If you do not wish to travel independently, there are a number of tour companies operating in Syria. The English company Explore has very good tours running in spring and autumn. In New Zealand their tours are marketed by Adventure World who offer Explore's nine-day On the Road to Damascus Tour starts at $1804.
Money: Despite Syria's currently poor relations with the US, the American dollar is the easiest to exchange. Travellers cheques can be difficult to cash. Outside of Damascus ATM machines do not exist.
Accommodation: There is a good range of five-star international hotels in Damascus, but in the mid range there is not a lot to choose from. The Semiramis Hotel (115 rooms) is the least expensive of the five-star hotels, and is well located, close to the Old City. Doubles are US$130-170. But be aware it has no views and is on a busy square - and you thought New York traffic was bad! The Omayad (80 rooms) is the best of the mid range hotels (US$100-105).
Restaurants: In Syria, people eat late. Lunch is from 1.30pm (though restaurants are open from 12 noon). Dinner is between 9-11pm (though most will open around 7.30pm). Food is inexpensive and good ... but if you are a Western fast food fan stay at home. The one Kentucky Fried outlet that opened up in Damascus a few years ago was driven by market forces to rename itself and serve local food.