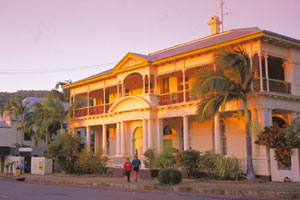 To tell the truth, I hadn't been expecting to eat the green ants. The first time I'd seen them was the previous day, when I discovered a couple of dozen having a party around a drip of juice on the sill of the rental car.
This was the second time and I wasn't in a car park outside a coffee shop. Rather I was in that place the Australians call "the bush" even when there are no bushes in sight - high in the rocky scrubland that Willie Gordon knows like the back of his brown hand.
In their hundreds of thousands, maybe millions, the luridly green insects had combined forces to curve a leaf into a large nest a couple of metres from the ground.
I would have walked right past without seeing them - all my attention was taken up scanning the ground ahead for one of those snakes like the coastal taipan or the common (!) death adder - but I noticed Willie had stopped. As I turned to look at him, I saw that his hands were a seething mass of the striking green insects which he was hoovering up with lip-smacking relish.
I sensed a challenge.
"Can I try some?" I asked, with somewhat more enthusiasm than I was feeling.
The taste was something like crunchy vinaigrette (I thought it best to chew vigorously because I had never felt anything actually crawling through my mouth and I wanted to keep it that way). I could see green ant dressing catching on in the more upscale restaurants of Melbourne or Sydney, but as bush tucker it didn't really do it for me.
I was an hour and a half inland from Cooktown in far north Queensland, which is where the sealed road ends, a three-hour drive north of Cairns. It wasn't until we got there that we realised following Willie Gordon was going to mean temporarily invalidating the insurance on the rental Commodore, which doesn't permit you to leave the paved highway. But it was worth the risk. Willie, an elder and traditional storyteller whose mob is called Nugal-warra, led us on an enchanting walk through the dry upland forest.
At the start point of the easy walk, he points out the small mountains on the shimmering horizon that triangulate the limits of Nugal territory. But most of his attention is at closer range as he opens our urban eyes to the apparently hostile landscape that was his forebears' larder and medicine chest.
He ignites a hard chunk of black termite mound which burns like incense to repel mosquitoes; he shows me how to wet the crushed leaves of a variety of acacia aptly called the soap bush and rub them vigorously between my hands, leaving the skin clean and baby-soft; he strips back the leaves of a tree he calls the bayjin, quickly making fibre which can be hand-plaited into string to make dillybags - the Aborigines' kete.
The wildlife is inconspicuous at this time of year. It's too cold for the reptiles like the snakes to be active - they have their work cut out soaking up what heat there is in the winter sun. But it means I can concentrate on Willie's stories about the rock art he shows us.
Willie's grandfather lived in this part of the country - indeed he may have painted some of the rock art Willie shows us. In little nooks that are easy to walk straight past and in room-sized open-ended caves, the paintings tell stories - of death and birth and everything in between - that Willie brings to life with a narration by turns playful and solemn.
He talks of developing relations with the people in charge of the Palaeolithic paintings in the Lascaux caves in southwest France. He shows us a rock, covered with the white imprints of the leaves that once lay there, and recalls how, when he first saw it, he realised he'd discovered a natural fungicide that would preserve the disappearing paintings of his ancestors.
And he speaks with sadness of how hard it is to get the youngsters in Cooktown interested in learning the lore he teaches, so that they can carry on his work when he's gone.
"So, Peter," Willie asks as we near the end of our walk, "are you feeling powerful?"
Having negotiated a few hours in the bush without standing on a snake, I was feeling quite at home, though "powerful" might have been stretching it a bit. Willie has other ideas. He's been rubbing a small stalk of grass between thumb and forefinger, and he hands it to me to hold.
As I stand there, staring dumbly, it dances for me - the stalk bowing and curling and twirling and weaving. My fellow explorers crowd around in wonder and, just for a moment, I feel very powerful indeed.
IF YOU GO
* Willie Gordon runs a variety of award-winning "aboriginal experience" tours out of Cooktown in far north Queensland. See guurrbitours.com.
Peter Calder paid his own way.