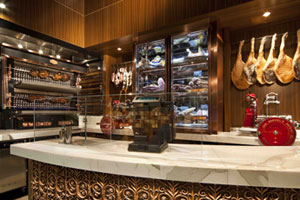 Australia is, I believe, a leader in multicultural dining. And since it's been five years since I last hit the streets of Sydney, I decided it was time to head back and find out if that reputation is still justified.
First stop is David Jones Foodhall on Market St for a bowl of hokkien noodles with beef and gai larn and, while I'm there, the frantically busy chef suggests I try Red Mint in Pyrmont. This sultry Vietnamese restaurant is close to Darling Harbour and has a wonderfully refined modern style, with painted brick block walls overlaid with timber stays, candles, moody lighting and a funky cocktail bar. I've always been a fan of Longrain in Darlinghurst for Vietnamese, but Red Mint chef Kim Liu's beautifully balanced food, elegantly presented, with nothing priced over A$17 ($22), is providing some stiff competition.
As I leave - my mouth still zinging from the yamba prawn, pork and mint rice-paper rolls - the waiter recommends Gumshara in Haymarket for the best pork, miso and ramen noodles.
But first I'm off to Spice in Surry Hills for the tongue-slapping som tum. There's plenty more on the menu here - 72 dishes, in fact. As soon as you walk in, you're washed in the fragrant aromas of Thailand. The som tum, made with shredded green papaya, chilli, peanuts, dried shrimp, cherry tomatoes, lime and fish sauce (A$13.90), is probably some of the best-value eating in the city.
It's fair to say the belly's getting a little full now, but since I'm already in Surry Hills it would be remiss of me to ignore Bodega Tapas Bar. This cool spot is operated by two tattooed lads, Elvis Abrahanowicz and Ben Milgate, serving contemporary Spanish food in laid-back surroundings. There's a bullfighting mural on the wall and about 20 dishes to graze on while sitting up at the kitchen.
To give the waistline a break, I wander into the Chef's Warehouse in Albion St, Surry Hills. It's filled to bursting with every kind of kitchen gizmo and pretty soon I'm working off all the food by stuffing cookbooks, cake tins and everything else you can imagine into my backpack.
Next, I hail a cab to Queen St, Woollahra to visit Australia's best butcher shop. Victor Churchill is quite unlike any butcher I've ever seen. Gone are the refrigerated cabinets with parsley-dressed meats. They've been replaced with rich timber wall panelling and beamed ceilings, an Italian calacatta marble floor, Himalayan salt-brick walls and sheets of glass protecting pristine cuts of wagyu and grain-fed beef, kurobuta pork, artisan smallgoods and prepared dishes such as coq au vin.
Master butchers are tying rosemary to racks of lamb next to sides of dried beef hanging on an automated track. Towards the back of the store is a chalkboard signed by top chefs who have popped in to pick up their order. A truly awe-inspiring experience.
Day two starts with a latte and a light-as-air coppa ham, potato and dill frittata at Indigo Cafe in Double Bay, under a tree on a traffic island.
Today I need to get my Japanese fix, so I head to Azuma Kushiyaki in Regent St where it's all about interesting tidbits on skewers. I'm specifically after their signature deep-fried pork jowl with curry salt, cucumber and miso and the plump pork sausages with American mustard.
Replete, I push on to Simon Johnson for a packet of durum wheat spaghettini and a look around the temperature-controlled cheese room.
From there, I make my way to Bronte Road Bistro to sample Tetsuya-trained David Pegrum's refreshing plate of kingfish ceviche and ruby-red grapefruit with chilli and coriander dressing, while seated in a sunny outdoor conservatory area with a glass of chilled viognier.
Sadly, my tour is coming to an end and, for my grand finale, I have to confess to abandoning my budget restrictions and heading for Quay in the Overseas Passenger Terminal at The Rocks. At the harbour's edge, I raise a toast to Sydney's thriving food culture.
- DETOURS