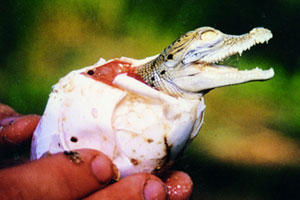 Have you met the crocodile that lived in the bath?
As I'm asked the question it strikes me that the line could be a great start to a children's book.
But the story isn't fiction. And I have met the crocodile that lived in the bath.
His name is Rocky and he lives at the Koorana Crocodile Farm at Rockhampton. Well, he does now.
Before he made the move in 1982, he lived in the bathtub of a fisherman on Thursday Island in the Torres Strait.
It's no joke, our tour guide Elaine tells us.
For four years the growing croc lived on a diet of filleted fish because the fisherman didn't want him to choke on the bones.
But after outgrowing the bathtub and biting every member of the household, the family gave Rocky up to the croc farm where he had to be rehabilitated.
Not only had Rocky's filleted fish diet turned his own bones rubbery (crocodiles gain their calcium from the bones of their prey) but he had never seen a female and didn't know what to do with one.
He bit the first young croc he was supposed to mate with, but then an older female showed him the ropes and now he seems quite happy, Elaine tells us.
But Rocky is not the only croc with a weird back story at Australia's first commercial crocodile farm, which 3400 saltwater types call home.
One was found living on a golf course, and another was living in a popular swimming hole.
In fact, owners John and Lillian Lever started the farm in 1981 with a stock of troublesome crocs.
The couple captured crocodiles from the wild that were proving a danger to people, saving around 100 from being shot as pests in the early years.
The fate of the breeding crocs' young, of course, isn't so good.
Staff carefully collect the eggs and house them in incubators where the temperature is adjusted to regulate the sex of the hatchlings: 80 per cent male and 20 per cent female.
When they grow to six feet their bellyskin is harvested and sold for around $20 a centimetre for fashion products, including by Gucci. Their meat fetches about $35 a kilogram.
In the wild it can be the human who comes off second best, so visitors are taught the three signs to look out for if visiting any swimming hole north of Rockhampton: a mound of a nest, belly slide marks down a river embankment and dug-out holes filled with rainwater - used by protective mothers to wallow in.
And while some visitors say they've been told to climb a tree if they come face to face with one of the beasts, Elaine says that's a bad decision.
"Of course crocs can't climb trees," she says.
"But if you think about it, crocs can go 12 months without food and three months without water. She will sit underneath the tree and wait for you to drop."
Our only option is to sprint in a straight line away from the water.
At the end of the tour we get to hold a baby crocodile whose skin is far smoother and more supple than I had imagined.
He's so cute I almost feel bad about the award-winning croc pie for lunch ... If only it wasn't so tasty.
CHECKLIST
Crocodile Farm: Koorana Crocodile Farm is at Coowonga on Queensland's Capricorn Coast. Tours cost $28 for adults, $14 for under 16s and children under 3 are free. Lunch, including crocodile pie, can be bought at the restaurant. See koorana.com.au.
To find out about the Capricorn Coast see capricornholidays.com.au.
- AAP