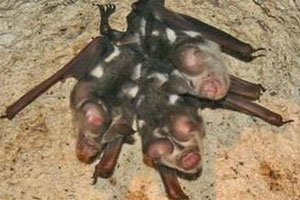 There were bats everywhere. Thousands of them. Disturbed by our lights they poured out of the caverns where they had been sleeping, zoomed past so close I could feel the wind of their tiny wings, and disappeared into the tunnels leading to the world above.
As the torrent of bats continued I couldn't help thinking that the real Bat Cave wasn't in Gotham City but just outside Alotau, capital of the Milne Bay province of Papua New Guinea.
The caverns we saw were big enough to garage a batmobile a batplane and a control centre... and peering down some of the potholes in the floor it became apparent there were several layers of cave further down.
The caverns were certainly teeming with life. Apart from the unbelievable number of bats hanging from the ceilings and swooping through the darkness there were red-coloured giant cockroaches, pale green frogs, mosquitoes and, so we were told, lots of snakes .
Manu, who showed us the Bat Cave, wasn't sure whether people had ever lived there.
But frankly, after exploring the place, I suspect no one would want it as a home. For one thing it is incredibly hot and humid even by PNG standards. And for another the smell of bat guano makes it less than a desirable residence.
Even getting there is an adventure, involving an hour-long drive from the port at Alotau - where we had landed from the expedition ship Orion - along a maze of tiny roads, to a spot somewhere in the middle of a palm oil plantation.
Then there's a walk along a barely visible jungle path full of pretty birds, weird insects, and attractive foliage.
Finally, getting into the cave involves clambering down a slippery slope, stumbling over boulders in the dim light of our torches, into the main cavern.
This is not an amazing cave as such - there are no shining glow worms or sparkling stalactites - but it is big... and my goodness it has a lot of bats.
Jim Eagles cruised around Papua New Guinea with help from Air New Zealand, Air Niugini and Orion Cruises.
Checklist
Getting there
Air New Zealand offers nonstop flights from Auckland to Cairns and Brisbane. See www.airnewzealand.co.nz. Air Niugini has daily flights from Brisbane and Cairns to Port Moresby. See www.airniugini.com.pg
Orion cruises
Orion operates regular expeditions around Papua New Guinea and other Melanesian Islands. For details see www.orioncruises.com.au
Further information
Information on Papua New Guinea: www.pngtourism.org.pg