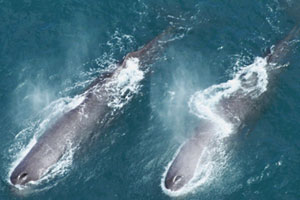 Our plane circled watchfully, all eyes trained on the sea below, a helicopter zipped hopefully underneath us and down on the surface three boats laden with keen-eyed observers joined the search.
Then suddenly an upwelling of white water and a plume of spray signalled that the sperm whale we were looking for had arrived. I felt like shouting, "Thar she blows," but decided it might not be appropriate.
After all, earlier in the day we had seen several reminders of the Kaikoura whaling industry which once hunted the giants of the ocean almost to extinction.
Indeed, right alongside Whale Watch's fancy new base, from which boats now set forth to admire the whales, are the foundations of an old whaling station and a plaque commemorating the brave men who once sallied forth to "do battle with the mighty whales".
And in Kaikoura itself one of the main attractions is Fyffe House, its oldest section sitting on whale vertebrae foundations, built by Robert Fyfe (yes, he had only one "f", but his descendants acquired a second) who established the first whaling station in the district in 1842.
Those two spots mark the two ends of the wonderful Kaikoura Peninsula Walkway which offers incredible views of the coast and its growing population of fur seals on one side and the snow-capped peaks of the Seaward Kaikoura Range on the other.
Happily, today the sperm whale population is steadily recovering, and most years there is a small band of young adults who spend their teenage years in the rich waters off Kaikoura, bringing mingled joy and awe to thousands of tourists like us.
My wife and I had been out on the Whale Watch boats in the past so this time we decided to try viewing the giants from the air with Wings Over Whales.
It's a totally different experience, less intimate than circling a whale on a boat, but providing a better chance to see the full shape of these ocean giants which grow up to 20m in length and weigh up to 36 tonnes.
It's also, of course, quicker - if, like me, you've got a train to catch - and less challenging to the yummy breakfast I'd had at Hapuku Lodge that morning.
Daniel, our pilot, explained that the whales we would be looking for feed in the Hikorangi Trench where they find ample supplies of squid, groper, ling and shark.
"They generally dive down to about 1000m and stay down for around 45 minutes - though they can dive for two hours and go to 2300m or more - looking for food.
"Then they come to the surface to recharge their lungs, usually spending around 10 minutes and breathing once every 10-15 seconds, which is when we get to see them."
You'd think that a single whale, even one as big as this, would be hard to find in a whole ocean. But whalers and whale watchers are helped by the fact that sperm whales usually dive straight down and straight up, returning to almost the same spot, and signal their presence by blowing out a cloud of spray with each breath.
So, as we headed out to sea in our plane, we were pretty confident of seeing one.
"There's only one whale operating close in to shore today," Daniel said, "but he's due back up in about 10 minutes and we know where he dived from so we should be able to find him."
Arriving at the spot we circled for a while, watching the albatross glide above the surface of the water on their huge wings, until the Whale Watch boats below us started to converge.
"The whale must be about to surface," said Daniel. "They'll be listening to his clicking on the hydrophones."
A few moments later, sure enough, the whale appeared, rising from the depths like a great grey submarine, then lay passively on the surface while the spectator boats gathered around. If it wasn't for the regular clouds of spray shot from its blowhole you could easily imagine it was asleep or even dead.
We circled for about 10 minutes, watching as its huge shape rose and fell in the waves, until suddenly it surged into life, the head dipped and the tail raised in a farewell wave, and with a surge of white water it disappeared.
The show over, the boats turned to return to base and we flew back to the airfield, pausing a couple of times to watch groups of tourists swimming with dolphins. "Twelve divers and only four dolphins," commented Daniel. "Not very good odds."
I guess you could say the same of the sperm whale. Once there were two million of them. Today, 45 years after New Zealand's last whaling station closed, there are still only about 400,000.
I don't personally take the view that whales are mystical creatures but there's certainly something moving about seeing these enormous creatures up close. It's definitely good to know they're still around to share this world with us.
At the South Bay end of the Kaikoura Peninsula Walkway there's a reminder that such marine behemoths have a particular connection with this country.
Where the walkway finishes stands a carving of Maui hauling up the giant fish - Te Ika a Maui - which became the North Island, according to legend bracing his foot against the Kaikoura Peninsula, which was originally known as Te taumanu o te whaka a Maui, the seat of Maui's canoe. So you could say a whale is my home.
And, on top of that, the station where I caught the TranzCoastal for the next stage of my journey around New Zealand by rail, is also the base of Whale Watch, and is known locally as the Whale Way Station. Sorry.
CHECKLIST
Further information: You can find out about the Scenic Rail Pass, the cheapest way to see the country by rail, at tranzscenic.co.nz.
Book Wings over Whales flights at whales.co.nz.
Hapuku Lodge provides superb accommodation in the countryside near Kaikoura.
Information: Find out more about the Peninsula Walkway at doc.govt.nz.
To get around in Kaikoura contact Kaikoura Shuittles on (03) 319 6166.
Also see christchurchnz.com.
Jim Eagles travelled New Zealand by rail with help from KiwiRail, Air New Zealand and the regional tourism organisations along the way.