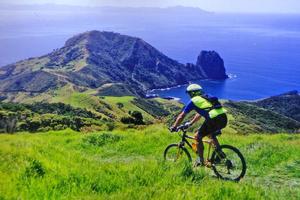 Get training for the Colville Connection adventure mountain bike event, which takes place on the scenic Coromandel Peninsula on March 13. Riders can choose from a relatively gentle 24km ride to Waikawau Beach and back, a rugged 40km off-road challenge, or a gruelling 72km circumnavigation of tip of the peninsula. Pre-race breakfasts and post-race barbecues are available.
On the web: colvilleconnection.co.nz
Garden good times
The beautiful Hamilton Gardens are a splendid setting for a feast of comedy, music, theatre, visual arts and film offered during the Hamilton Gardens Arts Festival, February 19 to March 4. The programme also includes a two-day food and wine festival, workshops, family events and a literary series.
On the web: hamiltongardensartsfestival.co.nz
Enter the dragon
As well providing an exciting spectacle on the water, the Wellington Dragon Boat Festival on February 27-28 offers onshore action such as food and craft stalls, face painting, Chinese lion dancers, jugglers and other entertainment. It's held just off Frank Kitts Promenade.
On the web: dragonboat.org.nz
Body of work
Talented body artists express themselves through the theme Maori Myths and Legends at the New Zealand Festival of Bodyart in Taupo, February 12-21. After an exciting week of workshops, shows, competitions and exhibitions, the festival concludes with a family day on February 21, with top-class face painting, air brushing, and lots of activities for kids. Entertainment includes kapa haka and live bands.
On the web: bodyartawards.co.nz
From sea to sky
The Sea, Sky & Bush Walk is a popular guided walk through beautiful Central Hawke's Bay, starting near Blackhead Beach and crossing private farmland to reach the foothills of the Ruahine Ranges. As well as superb scenery, the route encompasses shipwrecks, important ecological areas, pa sites, and gracious homesteads. The full walk takes three days but you can join for one or two days. It's scheduled for March 6-8.
Contact: 0800 200 502
On the web: seaskybush.co.nz