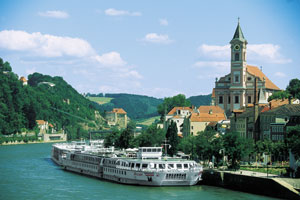 Next year we are doing a trip on the Rhine and Danube Rivers that finishes in Budapest. After several days in Budapest we will be going to Venice to then do a seven-day cruise. How should we get from Budapest to Venice? I'd like to go by train and have done a search but there seems to be fairly negative comments on the overnight train. The alternative would be to fly from Hungarian direct to Venice. Do you know anything about the train trip?
Ken Slocombe
Lonely Planet's London-based travel editor Tom Hall writes:
Night trains in Europe are a great adventure and I'd strongly recommend them over taking a flight. Sleeper trains offer comfortable, efficient services and advance booking is the order of the day. The one thing that hasn't completely changed is the booking process: arranging sleeper trains covering cities towards the east of Europe is still frustrating. To get this sorted in advance use an agency like Rail Plus New Zealand.
This train carries first and second-class sleeper accommodation (two and four-berth compartments), second-class couchettes (six berth compartments) and second-class seating.
Tickets for services including travel through Hungary can generally be booked 60 days in advance, though try 90 days before travel just in case. The Hungarian railways website offers first-class single berths starting at $245, second-class shared accommodation from $112 and a spot in a six-person couchette for $90. You'll pay an additional premium to book from overseas. The train shouldn't be full if you wait until you arrive, but these cheaper fares may be gone.
The journey itself is something of an adventure. The night train from Budapest to Venice leaves the Hungarian capital's Keleti station at 4.35pm and arrives in Venice early the next morning, having passed through two capitals: Zagreb in Croatia and Ljubljana in Slovenia. Expect to be woken up at border crossings unless you're in first class, where the train guard will look after your passports. On any night train your berth starts as a seat, then turns into a bed. On this train expect to be woken early to make your bed back into seats.
Stopping over in Malaysia
Myself and my girlfriend are looking to stop over in Malaysia on our way to the UK. We were thinking of spending three weeks in Southeast Asia and hopefully heading up into Thailand or down into Singapore. I've been to Bangkok and loved it, so I'm keen to show my girlfriend that and also the southern parts of Thailand. Neither of us have been to Singapore. What would be the best means of travel to get from Kuala Lumpur to each destination? Are there any highlights that we simply must do?
Blair Parkinson
China Williams, author Lonely Planet's Thailand Travel Guide and Southeast Asia on a Shoestring, writes:
Kuala Lumpur makes an easy Southeast Asia landing pad: the airport is conveniently linked by public transport to the hotel districts and the scams on new arrivals are almost non-existent. Malaysia in general is underrated amongst Southeast Asian wanderers.
Within a half day's bus ride north of KL is the Cameron Highlands, a collection of former hill stations nestled amongst tea plantations and lush forests. It is a delightful place to soak up the landscape on a long walk. Continue on to the island of Penang, a foodie's paradise where you can sample Malaysia's multicultural culinary banquet. From Penang, you can catch a boat to Pulau Langkawi, which is a sedate Malaysian beach resort that is linked by sea ferry to the Thai island of Ko Lipe in the high season (November to April) only.
If you're travelling during the high season, you can continue north by boat to Thailand's popular islands Ko Phi Phi and Krabi, two of the prettiest spots on the planet. Phuket is the next big beach destination and has cheap flights to Bangkok.
That covers everything but Singapore, which is a lovely forested city merging the best of the East and West. From Bangkok, you'll have to backtrack to Singapore, but there are loads of cheap flights. From Singapore, you can easily return to KL with a detour to Malaysia's Taman Negara, one of the world's oldest rainforests.