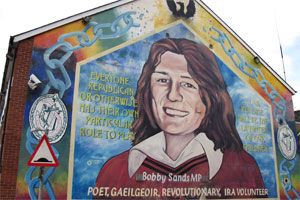 Billy Scott is probably the most famous taxi driver in Belfast. He didn't tell me this - he was too busy telling me other things - and I only found out later he'd appeared on television travel shows, podcasts and the like.
That was understandable because Billy is witty, chatty, knowledgeable and overflowing with Irish charm. I figured about a third of what he said was not quite true. The rest I wasn't sure about.
"Now you see over there," he said as we drove past the old shipyard.
"Those lovely cranes Samson and Goliath still have the initials of the company Harland and Wolff, so when you fly in to Belfast you can see H and W, 'hello and welcome'.
"I'm hoping the new owners don't put their initials up there. They're Fred Olsen, which would be ..."
My wife and I met Billy one warm morning and he was to be our guide on one of our too-few days in Belfast, a city I liked immediately.
Billy first suggested a walk around the block. I'd previously been through these only slightly interesting streets, but he opened my eyes: in here was the Socialist art gallery Open Window Productions; down there was where the Undertones recorded in the post-punk era; and this is the John Hewitt pub, owned by the Unemployment Resource Centre (where we returned the following day for a congenial meal and a pint of Guinness).
He took us into The Spaniard, little more than a convivial hole-in-the-wall with kitsch 70s record covers on the walls, where we also returned for a drink; and down this lane ...
Billy knew literary and rock music history as well as reflecting on pubs, The Troubles, the urban regeneration of Belfast and more.
I mentioned Van Morrison: soon enough we were outside his former home on Hyndford Street which Morrison celebrated in a beautiful spoken word piece, and then on Cyprus Avenue, which Van turned into Cypress Avenue on his album Astral Weeks.
And as we drove down Cyprus on our way to see the sculpture of author C. S. Lewis (opening a wardrobe, of course), Billy pointed down a driveway where flags were visible.
"That's where the Reverend Ian Paisley lives," he said confidently - true, I checked later - and so followed a discussion on the current state of Northern Ireland politics. Then we were standing outside Stormont parliament, then the murals at Shankill and Falls Road.
For those of us who have only viewed Belfast from a distance, the political flashpoint between Catholic and Protestant has defined our perception.
The murals are testimony to the depth of division between these communities: images of William of Orange at the Battle of the Boyne more than four centuries ago; masked men with guns; black-gloved fists raised in defiance; the notorious H block; huge portraits of martyrs, patriots, criminals or cowards, depending on what side you are on.
These parts of Belfast have their history on the walls of housing estates.
But Billy notes many are being painted over with more benign images of children playing together. And along the huge dividing wall at Cupar Way, something akin to a more porous Berlin Wall through the suburbs, the graffiti of thousands of international visitors who cannot feel the depth of historical grievances but hope for resolution can be seen: "peace out brothers", "keep up the healing" and so on.
Later we went to a Sinn Fein bookshop with a mural of Bobby Sands on the outside ("Our revenge will be the laughter of our children") where I bought, among other things, a collection of his prison poems.
When we shook hands with Billy later, it had been a day of politics, humour and a bewildering amount of information.
Belfast, I'd learned, was where everything from the pneumatic tyre, the ejector seat, air-conditioning and milk of magnesia was invented; where the Moravians, whose church is near the magnificent Tudor-style Queen's University, fled to escape religious persecution ("and they came to Belfast?"); and where 19th century New Zealand premier John Ballance and his political opponent William Massey (and later prime minister) both spent some of their early life.
Everything in Belfast was the first, the biggest, the oldest or the oddest. Billy never claimed anything was the best though, he didn't have to. Although Georgie - who has the airport named after him - undeniably was.
That goes without saying.
CHECKLIST
Getting there: Cathay Pacific offers daily flights from Auckland to London via Hong Kong. Special fares are available. RyanAir flights to Belfast depart from Stansted.
Belfast City tours: Black Cab Tours offers city, historical, entertainment and personal tours of Belfast and Northern Ireland.

Further information: You can get general information on visiting Britain and Northern Ireland at visitbritain.co.nz and discoverireland.co.nz.
Graham Reid travelled to Britain and Northern Ireland courtesy of Cathay Pacific and discoverireland.co.nz.