In the second of a series about famous New Zealand towns, we look at Rawene.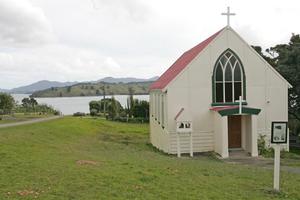 One of the country's oldest European settlements, Rawene, on the Hokianga Harbour, ticks all the boxes when it comes to picturesque postcard places.
The tide washes in around the Four Square and historic buildings built on pylons out over the water, while those who wait for the barge to take them across the harbour to Kohukohu can grab a beer at the pub or eat fish and chips by the wharf.
The town predates Kororareka or Russell on Northland's other coast but never garnered the racy reputation of the Bay of Islands settlement.
The upper Hokianga Harbour hamlet was all about industry, historian Paul Moon said.
In the 1820s, it was considered the place where the whole of the country would extend from, mainly because of huge kauri exports and shipbuilding.
"There was a big guiding business happening, too, from coast to coast. Maori were into that in a big way, taking Europeans along their coast-to-coast routes.
The rumour was it would cost extra to evade different warring tribes but it wasn't always certain that there were conflicts. "Rawene was the place you went to make money."
By the 1830s, the east coast was where settlers and missionaries were landing, in part because of the difficulty of entering the Hokianga, which was marked out by the towering sand dunes at its entrance.
Ngapuhi academic Dr Pat Hohepa calls Rawene home.
It was the centre of one of the last Pakeha/Maori conflicts of the 19th century, ostensibly because of dogs.
In the 1890s, a dog tax of two shillings and sixpence (25c) was introduced. Dr Hohepa said that Maori from Kaikohe west to the harbour, including Waima's Hone Toia, were vehemently opposed to paying it - not only because many used their animals for hunting but because tax represented the erosion of tino rangatiratanga (chieftainship).
"He [Toia] said, 'Firstly they're going to tax dogs and then they're going to tax people.' He saw that connection."
The stand-off occurred in April 1898 when an armed Toia with fewer than 20 men marched on Rawene. Although no blood was shed, the government sent a force 120-strong to the town. Toia was arrested and served time in Mt Eden Prison.
The Dog Tax War will feature when Ngapuhi's Treaty claim is heard this year.