In the second of our series about childhood holidays, Herald writer John Roughan remembers the naive child who paid the price for a long, indulgent summer with a serious case of blisters.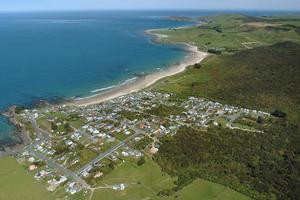 Down south where the sun seldom shines on television weather charts, it shines on Kaka Pt. At least it shone there, fiercely, one summer near the end of the 1950s.
We kids had never had a beach holiday. We lived in a country schoolhouse in the hills of eastern Southland. When it was hot we would swim in the Mataura River, which sent you shivering for your clothes after a few minutes.
We never needed sunblock. Actually we had never heard of sunblock. Maybe it hadn't been invented then.
We had never heard the words ozone or melanoma either.
We had heard of Kaka Pt. If you took the road from Balclutha to the coast you came to it, a real beach with sand hills and cribs, as baches are called in the south, and a surf club.
Kaka rhymed with hacker, not haka, in our ignorance of Maori. Its most famous resident, poet Hone Tuwhare, must have suffered the local pronunciation in silence.
These days, Kaka Pt is the eastern end of the celebrated Catlins coast but back then we didn't know there was anything particularly scenic about the wet bush, the big water-coloured skies and the long swells of the southern ocean that broke on the points and swept the bull kelp this way and that.
Our parents had rented a crib for the summer and the weather didn't let them down.
Every day, we made the most of the sand, sea and sun.
I got burned, of course. You expect sunburn when you are a red-haired kid with freckles.
You knew there was going to be a price to pay for a brilliant day. You paid it at night, squirming in the sheets to find a section of your hide that might be bearable to lie on.
The pain would last only a day or two, which was usually longer than the sunny spell. But not that year. The golden summer was endless and I was damned if I was going to cover up for a day of it. Surely if I suffered enough, the red would turn brown.
I don't remember how many days went by before bubbles started forming on my thigh. I don't recall what my mother said or did when she noticed.
All I remember is the blisters widening, day by day, until the skin of both legs had turned into saggy bags of blue fluid.
The sight haunts me still, though not enough to diminish the bliss of lying on a beach with a book, a little bit of head-shade, the waves not far away and a long afternoon with nothing else to do. Thanks to the miracle of suncream, I seem to be intact.
But 50 years on, I wonder sometimes if there is a price yet to be paid for that blistering holiday.