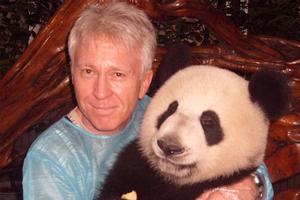 That's the trouble with tales. True or tall, false or short, they create expectations. Trepidation, even.
Case in point, my visit to the giant panda breeding base on the northern edge of the city of Chengdu, a scurrying metropolis of 11 million souls in China's southwest.
The evening before I heard a story about a visit to some panda reserve that, in essence, had it that pandas pass water fairly regularly. The moral of the story appeared to be: DON'T GET TOO CLOSE.
No surprise then that I felt a little conflicted when the chance arose to have my photo taken with one of these magnificent creatures sat upon my lap. My unease wasn't helped when a pair of attendants robed me in a plastic gown.
But one-year old Shu Xiang was an absolute gentlepanda and lived up to his name, which I was told translates as "All The Best". Turns out the gowns are not some sort of splash sheets but protection for him from infectious nasties we may carry.
All The Best was as fluffy as they look on the postcards and smelt as fresh as a new soft toy. Patient, too, enduring photo opportunities with a line of visitors who paid about $200 for the privilege. To keep him happy he was given slice after slice of apple, which he nibbled much in the manner as we humans, and with teeth about the same size.
I chatted away to him in the tone of voice I reserve for our cat and was rewarded with a near hongi. All The Best, obviously not used to Kiwi vowels, turned to look at the source of this infantile patter and I found myself nose to nose, looking into eyes of the deepest brown smack bang in the centre of those dark sunglasses that nature gave the giant panda.
Possibly concerned that All The Best might decide to see how my nose tasted, a staffer stepped up and with a hand on the furry cheek turned his head away.
The giant panda was an emblem of the Beijing Olympics and seems to have taken over from the dragon as China's national symbol which is not surprising. With its clear-cut black and white, the finest artist couldn't come up with a more pleasing design.
Some people are absolutely nutty about the creatures and profess their adoration on dedicated blog sites. For them, a close encounter is like a pilgrimage. I don't know about that but I do know it was impossible to leave without a smile on your face.
While Chengdu is constant noise and commotion, with construction everywhere, the centre is a 5.5ha oasis of forested calm with towering bamboo groves forming archways over walkways and a man-made lake which is full of tame carp and attracts 90 species of birds.
There are plenty of trees, man-made structures for the pandas to climb and caves to shelter in. Three middle-size pandas lay on their backs outside a cave, a basketball near by, looking like mischievous teenagers taking a break from a ball game.
At one point there was an excited rustle around the main enclosure. The mainly-Chinese crowd collectively sucked in its breath then collapsed in laughter. One juvenile giant panda who had been playfully poking at another, had tumbled down a small ladder, bowling his buddy over like a skittle. Two chequerboard balls of fluff in a heap, but no damage beyond wounded pride.
In another area, when a staffer deposited three mounds of bamboo and called out in mandarin, three burly pandas came gambolling out of the undergrowth, sat on separate platforms and set to work on lunch like hungry overgrown kids.
Estimates of giant pandas left in the wild range from 1600 to a more recent figure as high as 3000. All are in China with 80 per cent living in the bamboo forests of five mountain ranges in Sichuan province.
Despite an increase in numbers they are up against the odds as the weight of China's population puts pressure on their habitat. This is despite harsh penalties (for hunting, tree-felling or making charcoal in their habitat and for poaching) and attractive incentives for protecting them.
They live 1200 to 3600m above sea level and are picky eaters, consuming only 20 of China's 300 species of bamboo. Trucks from the research base drive daily from Chengdu (about 500m above sea level) to fetch their preferred varieties.
In the wild, giant panda are solitary creatures, preferring to be at least 5km from their nearest neighbour, earning them the name "bamboo recluses". Add that they have to spend much of their waking time eating and are choosy about who they mate with and you can see why survival remains doubtful.
Research and breeding bases such as Chengdu's are crucial. There are 240 giant panda in captivity in China including about 50 at Chengdu. They do better at such places in terms of weight and longevity living on average to 18 years in the wild and 25 in captivity and breeding.
The Chengdu base has a well-set-up breeding programme with a nursery to rival many hospitals. We got to look through the window like proud parents at newborn twins no bigger than an adult human hand. One was in an incubator positioned in the window while a nurse bottle-fed its twin. As we watched, she popped the tiny giant panda over her shoulder, patted it gently on the back and was rewarded with a burp that shook its body.
These babies which weighed 100-120 grams when born two months earlier are like gold. Corporations pay $200,000 for naming rights for a giant panda for a year, up to a million for a lifetime.
The honours board of names includes the likes of Tian Tian, meaning "tiny and cute", and Long Long or "Dragon".
Some companies, though, haven't been able to resist the marketing opportunity. There is a giant panda named Microsoft and another called Kleenex. Could be worse. At least KFC spared us a giant panda named Finger Licking Good.
Checklist: Chengdu
* Getting there
Air New Zealand has up to three direct flights per week from Auckland to Shanghai and two to Beijing. Phone 0800 737 000 or visit www.airnz.co.nz
* Where to stay
Tibet Hotel is on the web at www.tibet-hotel.com/Hotel per cent20facilities/fdjs.html.
The Giant Panda Research Breeding Base is 10km north of Chengdu. Book a tour or go by taxi (about $10-$20). Entry about $10. Open 8am-6pm. Best to visit is in the morning as feeding time is about 9.30am. If you visit in autumn (August-October) you may get to see newborn cubs.
* Further information
See www.cnto.org
* Phil Taylor travelled to Sichuan province courtesy of Air New Zealand.