Despite the roosters and backpackers, Laos can certainly turn on the charm, writes Damian Christie.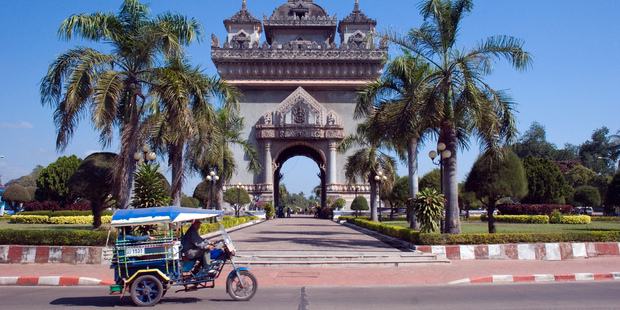 There's something incredibly romantic about being woken by the crowing of a rooster. Unless of course, it's midnight, which is the time most Lao roosters seem to think appropriate to start their morning reveille - a performance which finishes, ironically, about the time the sun rises six hours later.
Laos might be quieter in most senses than neighbouring Thailand, but at night it's a symphony of fauna - the roosters compete with fighting dogs, screaming cats, chirping geckos and the buzz of mosquitoes - all of which manage to rise above the clunk of the struggling air conditioning system in my guest house. I'm in Vientiane, the Lao capital, and I'm not sure I'll ever get a good night's sleep again.
Although Vientiane has a functioning airport, I journeyed from Bangkok by overnight train, saving on travel costs and a night's accommodation. No trains cross the Thai-Lao border: instead a combination of tuk-tuks, buses and taxis are employed to take travellers to the Thai border, across the "Friendship Bridge", and from the Lao border into Vientiane itself. The process is needlessly confusing and takes far longer than any border I've encountered in my travels - welcome to Communist Laos.
Perched on the banks of the Mekong River, Vientiane doesn't offer much in the way of unique attractions - there are the usual markets, temples and culinary delights - but Patuxai, Laos' take on the Parisian Arc de Triomphe is worth a visit. It was built as a monument for those who fought the French for independence, funded by US aid intended for an airport.
Coming from Bangkok, Vientiane's greatest gift was a chance to relax: sitting down for a drink, watching the sun set across the Mekong, free from constant interruptions from wandering street vendors. Later, walking along the dusty city streets without tuk-tuk drivers harassing us to take a ride, or sex workers offering, well, much the same. Yes, the drivers still advertise their wares from the street corner ("tuk-tuk?" during the day becomes "weed?" after sunset), but there's no hassle.
With a population of just 200,000, Vientiane is a sleepy capital. After dark the riverside food stalls come alive for a time, but nightlife is pretty limited. After a few days in Vientiane, it's time to head north.
There's a well-worn trail from Vientiane, to Vang Vieng, and up to Luang Prabang, but the two stops couldn't be more different. If you're looking for a romantic or family-friendly destination, forget Vang Vieng. There are only two reasons for coming here - tubing and partying. The latter is self-explanatory, hundreds of backpackers in various states of inebriation and undress, all trying to do their bit to expand the global gene pool. The tubing however, is unique, and has a lot to do with the state of the backpackers later in the evening.
There's a lot to be said for reclining on an inner-tube, gently floating down the Nam Song river, admiring the huge limestone cliffs to one side. Add to that the makeshift bamboo bars every 50m or so, enticing you to stop for a cold beer, a flying fox or rope swing, and a shot of home-made Lao-Lao (rice whiskey), and there are definitely worse ways to spend an afternoon.
Towards the end of the ride (which could be an hour, or several, depending on how many bar-stops you make), a pumping bass beat grows ever louder. Rounding the bend is the biggest bamboo bar yet, with every backpacker who has preceded you dancing around bonfires in their swimsuits, necking lethal concoctions from small plastic buckets.
War wounds are compared - cuts, scrapes and sprains from the day's adventure, while expletives and come-ons are written on bodies in permanent marker.
"Too many mushrooms," laughs a dreadlocked Swede as a clean-cut Israeli boy is helped out by his friends.
"See you at Jaidee's later!" they yell, hopefully, to the girls they leave behind.
As the sun sets and the crowds head back into town, it's possible to really see the backpackers' influence on what must have once been a quiet, scenic destination. Packed bars and restaurants line the main streets, each with a television in prime position playing old episodes of Family Guy and Friends. The bars keep getting rowdier as the rest of the town goes to sleep.
Leaving the last bar in the early hours of the morning there's not a tuk-tuk or even a streetlight to be seen, and I'm lucky to find my way home through the unfamiliar town.
The next morning it's back on the bus. Ignoring my throbbing head, the driver blasts Boney M as we start the winding, six-hour drive north. It's going to be a long trip.
Unlike the previous two stops, Luang Prabang truly speaks of Laos' French heritage. This is reflected in its architecture; whitewashed two-storey buildings open their shutters on to the main street, the illusion only broken by a communist flag hanging from the window, or a saffron-robed monk wandering past.
More practically, it also means it's possible to have a decent coffee and pastry for breakfast, and spend a relaxing evening lazing outside a wine bar. But even in Laos the finer things are not cheap, and those on a backpacker budget will find their funds dwindling quickly.
With so much charm, it's inevitable that Luang Prabang has become Laos' foremost tourist destination. The main strip consists of a succession of gift shops, internet cafes, travel agents and eateries. As a result, the two most popular day trips, to the Pak Ou "Buddha" caves and the Kuang Xi waterfalls are worthwhile, but feel like a tourist conveyor belt.
The trip back from the waterfalls stops at an "authentic hill-tribe village", where at least a dozen minibuses are parked outside, and a stream of tourists follow a path lined with handicraft stalls.
Equally tourist-ridden but still a unique spectacle, are the monks collecting their morning alms from locals and tourists alike. It means a bleary-eyed 6am start and, of course, even at that time someone is still waiting to sell you a plate of overpriced fruit and sticky rice to pass on.
A warning - there will be an endless queue of monks, but only so much food - every extra plate eagerly pushed in front of you as the line continues will be added to your tab. Say "when" before you've racked up $50 handing out a few dozen mandarins and a kilo of rice.
But it is possible to step off the conveyor. Walk 20 minutes in any direction from the town centre and the tourists disappear. The food stalls become cheaper and more authentic, young monks eye up the latest cellphones in dusty electronic shops, the souvenir shops are replaced with run-down mechanics and general stores.
It might not be as pretty, but it is the real Laos, and well worth the effort.