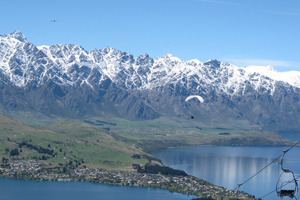 New Zealand has been named one of the top countries to visit in 2010 by Lonely Planet's popular Best in Travel guide.
The annual publication draws on the knowledge of Lonely Planet's staff and authors to highlight some of the best and most inspirational travel experiences from around the globe.
In naming New Zealand, the guide's authors said there was wisdom in the old saying "If it ain't broke, don't fix it" and the last time they checked "the land of Maori and hobbits certainly didn't need repairing".
Paragliding over Queenstown, exploring Tongariro National Park, kayaking in Abel Tasman National Park and taking a flight over Fiordland are singled out as "life-changing experiences" by the guide.
Best in Travel 2010 also features 10 top regions and cities to travel to in the coming year as well as numerous other lists.
The South Island's Otago Peninsula is named one of the 10 best cycling routes for its mixture of "scenery and sweat" while Dunedin's "network of dog-friendly trails" helped it secure a place on the list of top 10 places to walk your dog.
New Zealand is also praised for its sustainable tourism practices.
"NZ is spearheading the ecotravel revolution, winning international accolades for its ethos towards responsible travel... When you're gawping at the spine-tingling vistas it's good to know they'll still be there for future generations."
Tourism New Zealand Chief Executive George Hickton said being singled out by Lonely Planet as one of the Top 10 Countries for 2010 was an "astonishing result" given the competition from established and emerging tourism destinations.
The other countries on the top 10 list are: El Salvador, Germany, Greece, Malaysia, Morocco, Nepal, Portugal, Suriname and the USA.