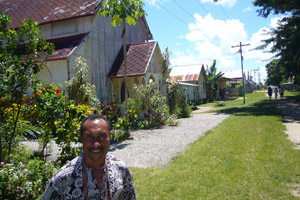 Stepping ashore on Samarai Island is like taking a step back in time.
This tiny island - just 24ha - is where 100 years ago Australia established the capital of its newly acquired territory of Papua.
The officers and traders are long gone and the population has fallen from over 5000 in its heyday to more like 200, boosted today by a group of tourists from the expedition ship Orion.
But the island still has an air of gentrification unlike anywhere else in Papua New Guinea.
Walk down the broad main street, which these days is covered in grass and caters solely for foot traffic, and it is easy to imagine what it was like in colonial times.
The street is lined with huge old buildings which once housed the customs office - "The first in PNG," Perry Dotaona, chairman of the Samarai Tourism Authority told me proudly - great trading emporiums like Burns Philp, financial pillars such as the Bank of New South Wales, shipping companies and a huge copra store.
Today most are empty and suffering from decades of neglect.
About the only place still in its original business is the Anglican Church - "Also the first in PNG," according to Dotaona - but it too has rot in the wooden walls and gaping holes in the ceiling.
Still, it could have been worse, because at the end of World War II the Japanese tried to blow it up.
"They tied a hand grenade here," says Togarewaia, one of the church elders, indicating a dark patch on one of the main pillars.
"Then they shot at it through the door with a rifle. The hand grenade exploded but it only burned the pillar and the church stayed standing."
Not far from the church is the old cricket ground and European Club, where the colonial administrators would sip their pink gins and applaud good shots.
The whole of Samarai has been given National Heritage status, but there's no sign that anything has been spent on actually preserving the buildings.
This is a source of irritation to Dotaona, who believes Samarai has the potential to attract far more tourists. But, in many ways, it is Samarai's seediness that makes it so charming to visit.
CHECKLIST
Getting there: Air New Zealand offers non-stop flights from Auckland to Cairns and Brisbane. Air Niugini has daily flights from Brisbane and Cairns to Port Moresby. For information see airnewzealand.co.nz,
airniugini.com.pg
Orion Cruises: Orion operates regular expeditions around Papua New Guinea and other Melanesian Islands. For more information see orioncruises.com.au
Further information:
For information on visiting Papua New Guinea see pngtourism.org.pg
Jim Eagles cruised around Papua New Guinea with help from Air New Zealand, Air Niugini and Orion Cruises.