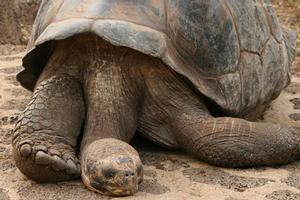 There's good news and bad news on the subject of Lonesome George, the last surviving giant tortoise from the Galapagos island of Pinta and described by the Guinness Book of World Records as the "rarest living creature".
First the good news. I saw Lonesome George the other day and there's no reason for him to be lonely any more.
These days he shares his leafy enclosure at the Charles Darwin Research Station on Santa Cruz island with two nice lady giant tortoises, with whom he apparently gets on fairly well, despite the fact that they're a different sub-species found only on Isabela island.
Unfortunately, the day I came calling George seemed to be in a bit of a huff. He was lying on the far side of his spacious quarters, alongside a stone wall, with his back to the viewing area.
His lady friends were out and about, eating leaves and posing for visitors, but George didn't stir. I tried to pass on greetings from a colleague whose nickname, for reasons obscure to me, is also Lonesome George, but he ignored my efforts.
By the time we left, with George continuing to show us his large, heavily armoured backside, I was starting to think that with an attitude like that it was no wonder he was lonesome.
But then I had to remember that George, who is around 100 years old, has spent most of his long life on his own.
Most of the thousands of his relations that once lived on Pinta Island were eaten by whalers, buccaneers and even the likes of Charles Darwin, whose theory on the origin of species was famously inspired by the diversity of the creatures of the Galapagos, including the giant tortoises that varied from island to island.
Those few that escaped being eaten were thought to have been wiped out as a result of the introduction of goats, which destroyed the island habitat, and rats and fire ants, which preyed on the young.
It was a major shock when in 1971 a biologist who was studying snails on Pinta Island - they're unique too - reported encountering a giant tortoise.
A team from the Darwin Foundation investigated, recovered George and took him to the safety of their research station where he has lived ever since.
Wander round the station's spacious grounds and you can meet many of the other 10 surviving subspecies of Galapagos giant tortoise face to face, though you're asked not to stand on the stone pads where they seem to spend most of their time snoozing, in order to reduce the risk of infection.
Up this close these tortoises are enormous - George weighs 90kg, about the same as Dan Carter, and some of the others look bigger - and with their huge battered shells, world-weary faces and massive wrinkled feet they look like creatures from another age.
One old fellow, who looked very much like the photos I've seen of Lonesome George, lay in the sun on his resting pad, his weatherbeaten face a picture of contentment. I squatted down before him with my camera at the ready hoping he might show signs of life.
Eventually he half-opened one tired eye, raised his chin fractionally to get a better view, looked disinterestedly at me for a moment, and then with what looked very much like a sigh lowered his chin back to earth, closed his eye and went back to sleep. I guess in the course of a hundred years he's seen it all before.
But some special residents - including George and a large and ugly-looking yellow iguana - can only be viewed over the stone walls.
In George's case, that's doubtless partly because he's likely the only one of his kind left, but it's also due to the fact that during the long period on his own he didn't have a chance to develop social skills.
For instance, when the old fellow was first introduced to his new girlfriends he apparently showed little sign of knowing how to treat them, which augured poorly for the research station's hopes of breeding more Pinta Island tortoises.
But one day that all changed. "The only time male tortoises make a noise is when they mate and then they sound off like a roaring bull," said Klaus Fielsch, our guide in the Galapagos, who then proceeded to offer a dramatic demonstration. "Aaaagh aaaagh aaaagh aaaagh!
"When that noise started coming from George's enclosure everyone came running. Sure enough he was mating with one of the girls. Great excitement. But when they checked her afterwards there was no sperm. She did produce eggs but they were infertile.
"And there have been other eggs since but so far no hatchlings."
That's the bad news. And, as Klaus said, "If Lonesome George dies without being able to breed it will be the end of a line, the finish of an era, a sad day for the planet.
"This is the most famous reptile in the world, more famous than Barney [the friendly dinosaur], and a symbol of the environmental issues we all face.
"George is so important to the Galapagos that when the local fishermen were having a dispute with the national, about fishing restrictions, they threatened to kidnap him to get their way.
"We wear him on our hearts," he added, and to emphasise the point slapped the Galapagos National Park Badge on his shirt, which carries a picture of George.
"If his kind vanishes from the earth we will all be diminished."
But there is reason for hope. For one thing giant tortoises are believed to live for about 200 years so there is still plenty of time left. For another giant tortoise breeding programmes are improving, both at the Charles Darwin station and the newer Galapaguera de Cerro Colorado, on San Christobal island, run by the Galapagos National Park.
There, safely protected behind concrete walls and wire mesh, we met a fledgling giant, Genesis, so named because he was the first to be successfully bred under the programme. In other pens nearby there are another 40-odd smaller and younger tortoises.
"This breeding programme is going very well," said Ki Ke, who showed us round the centre.
"Very few hatchlings survive in the wild and you very rarely see giant tortoises outside places like this. In all my years I've guiding I've only seen one or two."
I can confirm that, because in my days of exploring several Galapagos islands I saw countless wild and wonderful creatures - marine iguanas, lava lizards, albatross, red, blue and yellow boobies, assorted finches, mocking birds, Sally Lightfoot crabs, sea lions, penguins, humpback whales, hawks, frigate birds and turtles - but no giant tortoises.
"Over 90 per cent of the eggs they get here hatch," Ki Ke added, "and 70 per cent survive, which is very encouraging. Hopefully one day the tortoises bred here will be released back on to the islands where they originated."
In preparation for that day, huge efforts are being made to restore the island habitats by eradicating the likes of rats and goats - with the aid of a team of Kiwi hunters known locally as the Goatbusters - and replanting vegetation.
Until that happens, however, the only place you can get a feel for what Galapagos was once like - in a time when it is estimated that 600,000 giant tortoises were the dominant species on the islands - is somewhere like the Cerro Colorado.
There, giant tortoises roam freely in the leafy sanctuary behind the centre's protective walls.
When we arrived it was feeding time - something that happens every three days - and the huge tortoises were positively sprinting, at as much as 1-2kph, towards the piles of fresh cut green leaves.
At the feeding areas shells clashed, long necks extended enthusiastically, pink tongues flickered and bony gums gnashed with enthusiasm as they gorged themselves.
Amid the excitement, however, I couldn't help thinking of Lonesome George, no doubt still slumped against the stone wall of his enclosure, dreaming of when he was young and there were other giant tortoises like him on Pinta Island.
CHECKLIST
Getting there: LAN Airlines flies daily from Auckland to Santiago with onward connections to Quito or Guayaquil from where you can get flights to Galapagos.
Getting around: World Journeys offer packages to Ecuador and the Galapagos Islands which include visits to Lonesome George at the Charles Darwin Research Station. Phone 0800 11 73 11.
Further information: To find out more about the Charles Darwin Research Station on Galapagos see darwinfoundation.org. For general information about visiting Ecuador visit ecuadortouristboard.com.
Jim Eagles went to Galapagos with help from Lan Airlines and World Journeys.